Setlist, Attendance, and Recordings for: 2018-01-12 - The Miramar Theater - Milwaukee, WI
2018 is going to be a big year for Spafford if this most recent start to their For Your Amusement Only Tour is any indication.
The excitement bubbling around this show was at an all-time high. The show sold out a good week-and-a-half before doors and many people were left looking for tickets for the show. Just goes to show that the phrase, "buy in advance guaranteed to dance" definitely rings true. So this is just a PSA for all you wooks out there to buy your tickets in advance so you won't get shut out.
My friends, unfortunately, aren't as smart as I am and about a dozen of them didn't get tickets so, of course, were like little helpless puppies. Luckily for them I was able to somehow work magic and find tickets and get them all into the show. They are forever indebted to me.
All the nerds met up at a local bar just two doors down from The Miramar called the Black Rose. It ended up being a huge turnout and the bar had no idea why so many people were present, and I told them they could give me 50% of the bar sales for sending all these patrons their way. I never got my money, but I'm still holding out that I will.
Now to what matters the most. The Show.
There was no opener and we just got an evening with Spafford and it sure was quite an evening. The Miramar has a legal capacity of 400 people and I am almost positive there were more than that amount of people in the venue that evening. It was packed, energy was through the roof, and people were ready to dance.
A pretty neat story to share: a friend of mine, seeing their first show that evening, was talking with me before the show and wearing a shirt that was once owned by former Tom Petty and the Heartbreakers bass player Howie Epstein. Howie was from Milwaukee and my friend's family was friends with Howie's family and he had been gifted the shirt. Fate must be real because the band opened with their rendition of Breakdown by Tom Petty and the Heartbreakers and it was one to write home about. At over 15 minutes long they definitely stretched it out and grabbed everyone's attention. It was a great start to the evening and it was only going to get better.
Next up the band seamleslessly segued into My Road (My Road), a newer tune that was actually debuted in Madison, WI during Fall Tour. The song is quickly becoming a fan favorite and the jam sequence is always some smooth jazz funk and no one can complain about that.
Shake You Loose was on deck and the song has become one of my favorites of late. Just a good old-fashioned feel to it and the ladies love it. The dance party in The Miramar was just beginning.
The band started up Electric Taco Stand and that really got the crowd going. Taco Stand is one of the most fun songs in Spafford's catalogue and we got a special treat for this one with the > Dis Go in 5? > Taco Stand. The energy was through the roof when the band dropped back into the Taco Stand and some people actually thought the set was over and went to go outside and smoke, but nope, set not over.
Next up came Catfish John. Spafford does a phenomenal cover of this song and it never dissappoints. Spafford did play this the last time they were in Milwaukee, but it didn't even matter. After that ETS, Spafford could have played the fucking ABCs and everyone still would have a giant grin and be throwing down on the dance floor. That's how this Catfish John was. Raging. The band stopped and we all got a chance to catch our breath and refill on the booze and water that we all desperately needed.
Would like to take a second to note how much this sell out means to Milwaukee. The Miramar theater doesn't sell out jam shows really, ever. For the band to sell it out is great but so far in advance was awesome. The whole venue was full of friends and familiar faces and it couldn't have been more fun. It was great to catch up with lots of friends over set break, but everyone was ready for the second set after that monster first set.
Lovesick Melody, a new song, started to open the second set and it goes into Soil, which is another new tune. These songs have been played together now a few times and it seems its a suite, and it's a great new addition to the band's catalogue. Soil is some deep groovy funk and has the potential for massive jams in its future. It was a great version. The real insanity was just beginning.
Just before Weasel started my friend was like where is the Untz, I heard theses guys had untz! Boom! 10 seconds later, WEASEL. Weasel was not played too often on fall tour, but boy did it make a comeback. UNTZ UNTZ UNTZ. I don't really know what happened, all I know is that it was FUN. From the beginning Red lays down these long deep dark keys and the jam builds from there to some crazy peak and you don't think it can get any better until a seamless segue into Palisades. Alright. Someone pinch me. This beautiful composition is a treat. It's got beauty, finesse, and rock all meshed into one and it's the best. The greatest part about it is you know that the drop back into the UNTZ is coming. After Palisades blew people's minds the band dropped back into Weasel and all the noobs had no idea what just hit them. I highly recommend listening to this version because it's superb.
Honestly the show could have ended right there and I would have been content. But there was more music and I'm okay with that too.
Next up was After Midnight. Spafford crushed it. The real highlight was the outro jam where they slowly creep into Mind's Unchained. Mind's Unchained is a fucking great song. Everything about it. Lyrics, composition, jam. Up there in my top 3 Spafford songs. It wasn't too long, but it sure did pack a punch.
All In. Let me say after the ETS sequence and the Weasel sequence, now we got this ALL IN. This was epic. Just would like to comment on Cam's drumming during this because it's otherworldly. Does the guy have 8 arms? The jam took us to the moon and it was like an intergalactic drum circle. These guys are good.
Band leaves stage everyone is sad.
Band come back everyone is happy.
Encore:
Into The Mystic was a treat, not too often played and had the crowd feeling all the feels, but they weren't done and as they went right into Galisteo Way the energy was insane. The jam had a nice pretty jam to it that was kind of influenced by Into The Mystic.
Show ended and the band got such an ovation it was amazing.
Milwaukee loves Spafford.
Sadly now I have to wait til March for some more shows out in the mountains, but things could be worse....
Photo Credits: Adam Mizewski- Adjomi Photography ( my good friend!)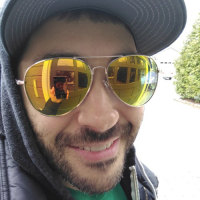 Catullus was originally slated as local support for Spafford's show tonight. Since it didn't work out we wanted to give you Nerds a chance to see what they're all about. They're touring the east coast, they've written a rock opera based on Homer's Odyssey, and their debut album is up on Spotify.
Band Bio:
"Emerging from the suburbs of Philadelphia, Catullus is building a reputation up and down the East coast for their deep grooving and sweat inducing sets. The ecstatic and energetic music that exudes from the four talented musicians effortlessly oscillates between progressive rock, and electronic untz. Steeped in the improvisational tradition, each set carries with it the potential of 1,000 different paths forged only at the moment of inspiration. The powerful vocal harmonies and lyrics truly makes Catullus a unique experience that is not to be missed... "
Music:
Catullus - Domino Days – 14:37
— Catullus Band
"Domino Days" is a part of their soon to be released Rock opera "The Journey". "The Journey" was written by their Guitarist Andrew Meehan and is based of Homer's epic poem "The Odyssey". This song features the part in the poem where Odysseus' crew tears open the bag of winds given to him by Aeolus and blows their ship off course.
A Maze in Life, their debut album, is available on spotify here:
https://open.spotify.com/album/0QgmLuYxOyOWSnhMSlsOFh
You can check out their YouTube channel here:
https://www.youtube.com/channel/UCxqVMxcek-fmfGxtvkhnEhA
And their facebook here:
https://www.facebook.com/catullusband/
Upcoming Tour Dates
2/16 - Sprout Music Collective - West Chester, Pa w/ Mczwang
3/31 - The 8x10 - Baltimore, Md w/ Broccoli Samurai
5/12 - Ardmore Music Hall - Ardmore, PA w/ Runaway Gin
More dates will be announced shortly. Check their facebook
Check out their stuff and let's give them a warm, nerdy welcome
Setlist, Attendance, and Recordings for: 2018-01-11 - 7th Street Entry - Minneapolis, MN
Ahhh what a great day it was, I got to see Spafford for the fourth time in two weeks. The weather in North East Wisconsin was mid 40s and raining-- not bad for Wisconsin in the winter, but nothing like Arizona two weeks ago. I was aware that Minnesota just had the storm we were about to get hit with in Wisconsin, so I was ready to go earlier than I had planned. I got in touch with my friend Andy, who I met at a few Phish and Umphrey's shows, and got to bunk at his and his wife's place in Minneapolis. The drive to Andy's contained white knuckles 90% of the way. I have driven in many snow storms before, but with the rain turning to snow and the temperature dropping to about 12 degrees by the time I was an hour into my drive, I knew this wasn't going to be a "drive fast take chances" kind of deal here. The right lane was fairly "clear" thanks to the tire tracks made by the the select few cars that decided to be on the road at this time. The left lane though? You better be All In for that ride. I made a few passes at a decent speed until I saw the aftermath of a nasty Semi vs SUV accident (positive thoughts sent.) After five-and-a-half hours in a car (a drive that normally takes four-and-a-half), seeing five cars in the ditch and a nasty accident, I was so glad to be pulling up to Andy's house.

I passed through Stratford, WI. A horrible misspelling of Spafford.
I knew I was walking up to the right house when I saw that vibrant Green Bay Packer flag hanging on the wall. Andy's house was gorgeous, filled with a jam band fanatic's dream of signed posters by your favorite artist's favorite artist and by your favorite band's favorite band. Of course, when I arrived I had to have a beer and catch up with Andy. Then Andy, his wife Lauren, and I went to get a burger at Mr. Burger, a place I now highly recommend. I ordered the Burger of the Month which contained peanut butter, panko-breaded deep-fried banana slices, bacon, and a burger. Let me tell you what, that burger was the highlight of the evening so far. After the burger shack we went back to Andy's to have a few more free beers before we started forking over hard-earned stable genius dollars to guzzle down PBR's that contained 2% less alcohol than the same beer in Wisconsin. We slammed the beers and called an Uber to head to the venue.
The venue, 7th Street Entry (a sister venue to First Avenue), was one of the smaller places I have seen Spafford perform a sold-out show, so I knew it was going to be real nut-to-butt. When we got to the venue I had known about the new merchandise that hit the shelves for this tour, so you could "cash me at the merch booth". I hadn't started collecting prints until I went to my first Spafford show, the infamous Pizza Jam show. Now I buy one each show I attend. Huge thanks to Jon Rose, the prints are always gorgeous. The big bummer was the fact that they didn't have any tubes available for the posters, so Andy and I bribed the guy at coat check to hold the posters in a safe place, so I could grab them after the show. He abided. Then it was time to get ready for the heat to kick in.
Spafford hits the stage and the crowd cheers as we get some nice smiles from the boys. Brian, Jordan, and Red seemed to be pretty bundled up with fleece jackets on and sweatshirts. I couldn't see Cam much throughout the show with how small the stage was, but I could sure as hell hear him back there. They got situated quickly, and boom, Backdoor Funk opener reminded me that I was right where I belong. It was a pretty straight forward BDF that welcomed everybody to this ice-cold venue and city. After a nice peak to cap off BDF, they went with People. Any song that Red sings I am an instant fan of, so I enjoy People often. It appeared that there were some technical issues after seeing some mouthing directed at the side of the stage. Whatever it was, they got it fixed, or it sounded like it. Red was a nice feature with some great synth work and piano play. Nothing out of the ordinary.
A big jam contender hit the scene next. In The Eyes Of Thieves, which is one of my recent favorites, kicked off after a nice ending in People. Shortly into the jam, they locked into a nice groove featuring some funky playing by Red and Jordan. The jam is great and almost appears to come to a peak, only to go back into another jam. Things definitely heated up, because Brian shed his fleece jacket after that Thieves.
Radio was here to bring us back down to reality. This is my second Radio (and the band's second performance of Radio) and I really, really like this song. Brian's vocals are great, and songs like these are always a nice alternative to the raging funkiness that I love. Aeroplane flew in next to pick up the funk. "Looking in my rear-view mirror," I could see that everyone was enjoying this Red Hot Chili Peppers cover. Jordan nailed the singing, a nice mini bass solo, and the band erupted into the jam. The segue from this pleasing jam into The Postman seemed effortless. It was golden. Golden showers everywhere. The Postman heated the whole block with cheers, woos, and a fiery jam. This is my recommended listen of the night. I have it marked as the highlight of the first set and a possible contender of the whole night. The Postman was a nice warm fire to sit next to while we waited for the second set. The set break contained many odd things that are now on my list for "strangest things seen at a show", but my favorite was running into a childhood friend's older sister at the show.
What a coincidence, the second set starts with On Fire. And was it fire. You would think I am a pyromaniac with all this fire talk. This jam proves that Cam is a perfect fit for these guys. The more I listen to Cam throughout the night, the better he gets. I can't say enough good things about him. The jam starts off and it puts me in a nice warm tropical setting, transitions into a spacey trance funk jam, and caps off with some silky-smooth guitar work. The second possible contender for highlight of the night came right away in the second set. I highly recommend this one as well.
Now it was time for me to enjoy the hell out of my favorite Chuck Johnson song, Slip and Squander. This is one of the songs that hooked me on Spafford, other than their jams. A beautiful peak in the end by Brian covered me with goosebumps, letting me know I truly feel this music and love this band. The slow intro into Leave The Light On was mesmerizing and well done for the longest jam of the night. Next, and unfortunately the last song of the set, came my third Funkadelic, and wow, I loved it, and so did the crowd. My notes coined this one "Funk Hoe Down show featuring Brian, Red, Cam, and Jordan". I also noted that I was a little butthurt that the second set was significantly shorter than the first. However, there is a remedy for that, and it came in the encore. The Remedy encore was straight forward, but Spafford's straight forward is like watching Aaron Rodgers destroy NFC North teams on a casual Thursday night. Andy and I hit the bar that was attached to the venue and I decided to end my night on a drunk note as my single gin-and-tonic that I ordered was stronger than Ric Flair. It was a great night all around, and the next morning reminded me of that with a lovely hangover. Time for a drive back home and down to Milwaukee for the Miramar show.
Signed,
The Funny Teenager
Keegan Lauer
@keeganlauer on Instagram and Twitter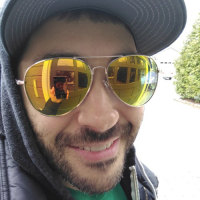 It looks like there's an interview out today with everybody's favorite bassist. Check it out here:
https://livemusicdaily.com/2018/01/11/jordan-fairless-bassist-by-necessity/
It's written by Lizzie Morelli who may know Jordan better than any of us. She says up front that they live together. Pretty cool to be a music journalist, to live with a killer musician, and to be able to interview him on the record. Take a peek into a Saturday morning in a quiet home in AZ. Then hold onto your buts for the start of the "For Amusement Only Tour."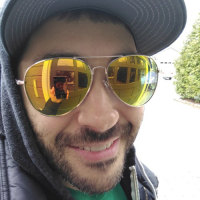 Nerds! We are extremely excited to have Andrew J. Thomas (@andrewthomas) join us on Wednesday, January 10th for a Q & A session. In case you didn't know, Andrew made Brian's custom built guitar which has been lovingly named "Raven." This is your chance to ask Andrew about making guitars, the Raven itself, any of his other work, or what it was like to win Beau of the Electro Funk Ball.
We'll run the Q & A right here in this thread. Andrew will join us at 5PM eastern and be online for about an hour and a half. You can post your questions ahead of time on this thread and he'll answer them when he's with us. This dude's been around a while and seen some cool stuff. I know I've got a bunch of questions at the ready, so jump in and let's make him feel super welcome.
You can check out his website here:
http://thomasmilanaguitars.com/
and you can 'like' his facebook page here:
https://www.facebook.com/thomasmilanaguitars/