Setlist, Recordings, and Attendance for: 2017-10-12 A & R Bar, Columbus, OH
I want to start off this review with some of the people "behind the curtan" so to speak. These guys make the magic happen for us. Spafford is that magic. I am new to the Spafford scene so I don't yet know their names, but the techs for Spafford have really set it up nicely for each show I've attended.
First up Spafford opened with Ain't That Wrong, which really told everybody who was unaware that they were in for a fun night that would go by too quickly. Right into a cover of Green Day's Longview >Lonely jam that surprised me for sure!
Red was up next for his ballad, and one of my favorites, Beautiful Day. It surely was just that, a beautiful day! It was one song I've been wanting to hear live since I first discovered Spafford back in February.
Dis Go In 5? was up next back into Red's Jam > Weasel to close out the first set. It was like a huge cliff hanger leaving the entire crowd wanting more! So much energy and good vibes in the first made me wonder, "How can they top that?!"
They opened up the flood gates on the second set with Funkadelic. What a heater! That got everyone back to the stage in a hurry. Up next was a funky tune called In The Eyes Of Thieves.
They closed their set out with probably my three favorite tunes in a row..... Leave Your Light On > The Postman and, as an encore, Salamander Song. It's like they knew what I was thinking! What a great band and great set. I was able to snag one of the numbered tour posters too! Make sure you get one of those!
Photo Credit: Michele Felker
Setlist, Recordings, and Attendance for: 2017-10-05 - Iron Horse Music Hall, Northampton, MA
I headed to Northampton after work on Thursday afternoon with a raging headache and killer hangover from the Outer Space show the night before. I checked into my room downtown and headed to the Tunnel Bar/Platform for the meetup. I had two high school buddies in tow, both with no prior experience with Spafford. (They loved them BTW.) I was most happy to see @Kyle-Burbank and @uconnwes again- we had such a blast raging together the night before. We kicked it outside in the fairly warm October air for a bit, blazed up, and talked about what we hoped to hear that night while the band milled around their bus smoking butts and mingling with us.
The *Iron Horse is an older, smaller venue with a real old-school living room feel—kind of like your grandma's house that hasn't been updated since 1976. An older beatnik crowd took up the tables and chairs that lined the walls. The small balcony was kept roped off. The stage was small, without a lot of room for the band to move, and there was no real lighting rig so the venue kept the house lights on... for the whole show! There were two cans with a green and red light that stayed dimly lit as well, but otherwise effects were as minimal as possible.
Windmill got us off to a solid start, never really straying from its structure but delivering just the same. A quick romp through the bluegrass jaunt of Hollywood lent an easy-breezy feeling to the set. My friend leaned over and said something about how any song with a whistling section is awesome. The band then switched it up into a bouncy shuffle jam with all four members totally locking in. Brian brought the energy way up with a searing bluesy solo while Cam killed a funky ride bell pattern.
Out of this jam, Red began some beautiful melodies as they landed on their first cover of the evening, Standing Outside A Broken Phone Booth With Money In My Hand. It's the kind of song that everyone knows, they just don't know they know it. The looks of surprise were everywhere as people began to figure it out and nod in approval. Brian crushed the ending solo as it turned into a dark and heavy jam. The setlist labeled it Space Jam and the band certainly did their best to make us feel like we had just landed on the freaking moon. Red's opening notes of The Remedy snapped us all back to reality as we gathered our brains just in time to have our faces melted by a Brian-heavy version of the tune.
The rocking Dream Jam that followed gave way to the super-funky, Red-sung, JJ-Call-favorite After Midnight. (I incorrectly thought it was going to be Midnight Rider... It had the same bouncy/funky intro... It fooled me bad). Midnight kept it upbeat and funky until the last few minutes where they slowed it down to a real bluesy rock jam to finish up the set.
Set break involved more weed, more hugs, and excited talk about Friday's coming show in Boston.
A rocking Seven opened up the second set, followed by the improv standout of the evening, In The Eyes of Thieves, where the jam included several movements and peaks. A standard America followed with The Reprise right behind, which seemed to have a little bit of extra sauce at the end. Mind's Unchained closed out the set with as loose of a feeling as the show began, and with a powerful solo from Brian who let rip with clear, clean tone.
The band left the stage for only a moment before returning for Into the Mystic, which had everyone swaying and singing along joyfully, feeling the vibes as Red poured it all out on stage.
Outside the air had cooled as friends parted ways and we headed off for a slice at Mimmos before they closed up for the night. Sleep was a must... The Sinclair was up next!
Thanks @uconnwes for some of the pics!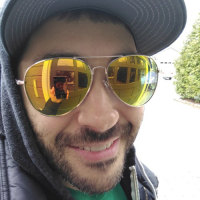 Nerds! I'm incredibly excited to announce the newest source for recordings in the SpaffBase, nugs.net! We've hooked up with the guys over there to link to the band's official releases right here on Spaffnerds. We strive to be the one stop source for your Spafford listening needs and we know that the inclusion of this content will only further that goal.
To celebrate this occasion, we are running a drawing for a chance to win a nugs.net subscription that will cover the remainder of Spafford's fall tour. All you have to do is reply to this post saying you want to be included and you'll get a spot in the drawing.
We also want to take this opportunity to ask you to help us fund this site. The time and energy invested are huge, but that's a labor of love and the team is happy to do it. Beyond that though there are real dollar costs involved in running and maintaining this infrastructure. If you use this site, please consider making a donation to support it. I feel a bit like NPR right now, but believe it or not, we are listener supported.
We have a few subscriptions to offer and we want to get them into your hands. To do this we will structure the drawing as follows:
The prize is a 3 month all access subscription to nugs.net.
The drawing will take place on Tuesday 10/18/2017 at 8PM Arizona Time. It will be live streamed.
Names will be placed in a list which will be randomized and numbered. A random number will be generated and the name which matches that number will be chosen as a winner.
Depending on how the fundraising goes we may add an additional 3-month subscription to the drawing. Generosity is contagious. We will announce any additional subscriptions in this thread, so keep an eye on it.
Donation is not required to participate in the drawing. If you decide to donate, please post your donations to our paypal account. https://paypal.me/spaffnerds/5
We suggest $5 but don't let that hold you back. We'll take $1 and we'll take $50. Any amount helps. We ask that you use the "friends and family" option to avoid fees. If you need to use a credit card the fees may be unavoidable, that's okay.
Thank you, the Nerds, for what you do on a daily basis to make this site great. Without you this is just a web space. With you this is a community.
Setlist, Recordings, and Attendance for: 2017-10-04 - The Ballroom at the Outer Space, Hamden, CT
Spafford easily chalked up another road "win" last night in Connecticut as part of their Fall Tour 2017. Coming off the heat that was a three song Tom Petty encore the night before in Vermont, I went into this mid-week show with low expectations and once again Spafford delivered! We got to the venue early to scoop up the 2nd Jon Rose poster ("Found it All") and heard the band soundcheck "Areoplane" and "Longview" covers which fortunately worked their way into the set later in the night!
The Outer Space Ballroom has a funky little venue, very old school north New Haven, CT vibe and they can bring in top tier talent like Spafford. The venue probably holds 400-500 attendees max, so there's really no bad seat in the house. It felt like there were about 250-300 folks max in attendance for this mid-week show. This was a show for local fans as, unlike NYC or Philly, Connecticut is not a major concert destination.
The band hit the stage a little after 8:00pm to start Set 1. The room quickly filled in as the band got things going with Ain't That Wrong. It is hard to not start dancing in place when they get this song going! Spafford did seem a little tired, if that's the right descriptor, having been on the road and jamming the past few nights, so to me it felt like they were easing themselves and the audience into this mid-week show.
Next up was one of my favorite Red Johnson tunes, People. Again, pretty standard delivery of the song until near the end when the band dropped out to allow Red to perform a nice little piano solo that brought the room to brief standstill as we all watched Red tickle the ivory and bring us in for a soft landing.
At this point, Spafford must have called an audible against planned setlist they had printed out and they launched into the Red Hot Chili Peppers' Aeroplane (vs. the Spafford original Simon and Lily). This was only the 2nd time they have played this song, the other being NYC 12/31/2016. Areoplane really got this hump day crowd boogieing and singing along to this popular tune. Like any other piece Spafford adds to their catalog, they nailed this one and put their funky spin all over it!
Areoplane segued into a nasty little Backdoor Funk that seemed to open the band up for the evening to do what they do best – Jam! Backdoor Funk saw the band get out there for some more sonic exploration and I remember some really nice synth work coming from Red which I will have to have another listen to when this show makes it to nugs.net (not sure there were any tapers at this show). Backdoor Funk got the whole room grooving and doing that funky little Spafford noodle dance! I also remember Red getting down on some really nice Fender Rhodes sounds sprinkled into this spacey mid song jam. They definitely wound it up and got the whole room going as only Spafford can!
After the heat that was the Areoplane>Backdoor journey, Spafford decided to end the first set with Simon and Lilly. I was excited to hear the opening notes to this awesome original tune. Unfortunately, this song never really got propelled into outer space and the delivery ended up being pretty standard. I was really hoping Brian would jam this one out but toward the end it seemed they abruptly ended the tune and Brian announced a quick set break. Not sure if there was some technical stuff happening up on stage like a monitor not working, as Brian seemed to look of the side of the stage as they wrapped things up around 9:14p.m. All told, nice 1st set especially with the Areoplane bust out!
We all had a nice set break, this venue is super low key and chill so we could all go outside for some fresh air and a head check. Great fall evening with mild temps and plenty of fresh New England air. Outer Space ballroom also has a nice selection of local beers so a pretty easy venue to get in and out of with no hassles. The band took a short 15-20 minute set break.
Spafford got back on stage a little after 9:30p.m. to blast off into Set 2. Probably sensing we needed to get our tired Wednesday asses boogieing again, the band launched into their quintessential rocker, Weasel. Weasel did not disappoint either! They rocked this song hard and Red again took things into outer space with a very ambient keyboard jam. With the band firmly back in the driver's seat, we were treated to another cool bust out of Green Day's Longview. The crowd really got into this song and I liked the way Spafford put their spin on it. Brian nailed the lead vocals for this number and was pretty spot on with the chorus delivery. The band did, however, mix up the verse sections of the tune to give it a really funky, reggae type vibe which sprinkled the Spafford funk all over the song and made it more enjoyable than the original punk version. Great crowd sing along as well! Only the 2nd time this has been played as well, the other time being 10/29/2016.
Speaking of the 2nd set crowd, it was nice to see that the room remained filled with at least 200+ attendees which was great considering this was a mid-week show and Spafford could have lost some folks after set break which did not seem to happen.
Spafford then got back into their home turf and catalog with a sweet little It's A Bunch instrumental. I love this one, especially when Brian kicks in his nasty little guitar riffs that define this tune. After rocking "It's A Bunch", the band took on another sonic instrumental journey with Virtual Bean Dip and we all funked out to their jamming.
The band then brought things home to close 2nd set with All-In with Jordan taking over on lead vocals. I always love this tune, when they "pick of the pace" and get this song rolling. I will have to give this one another listen as well because they jammed it out a bit and I remember Jordon dropping some major bass bombs along the way.
Spafford took a quick exit of the stage and left the building a little before 10:30pm. The crowd cheered for more and the band graciously took to the stage again. I was very excited to hear them launch into Salamander Song which is always a crowd pleaser. This kept the crowd going, but we definitely have some homework to do with the Connecticut fanbase as we had the normal miss-placed "Hey" sing-alongs with the band. I think I will host a workshop or webcast in the future to teach fans the proper timing of "Hey"! Heck, maybe I will even host a multi-day retreat entitled "Celebrating the Spafford Lifestyle – Unraveling the Myth of Unicorns and Snowmen in the Desert"! I digress…
I would have been happy for things to end there, but Spafford always has an extra goodie in their bag of tricks for their fans which is why I love this band! While not on their original setlist, we got treated to a jamming Galisteo Way tacked on to the back of Salamander Song. Holy shit, I did not expect a double encore on a Wednesday night. We got a rocking Galisteo Way with the band playing their hearts out and us yelling "that's what they say" at the top of our lungs!
On the way out, got to thank the band for a great night and I asked Brian about the double encore. He reminded me that the last time they played the room, they had a late start and got booted from the stage early. They wanted to make up for it last night by giving us a special encore to thank the CT fans.
So, another Spafford show in the books. They are the nicest band and they really care about their fans and our complete enjoyment at their shows. I am grateful I found my next favorite band in 2017, these guys are the real deal and bring it every night. Fall Tour is off to a great start and I was lucky to see another two nights of music this tour before I getting back to the grind. Don't miss a Spafford show, catch them right now while you can still dance up front and not battle massive crowds! Long live Spafford – see you Nerds on the road!
Setlist, Recordings, and Attendance for: 2017-10-03 - Higher Ground, South Burlington, VT
Going to shows has always been about so much more than just the music itself. While the music is obviously the central theme that drives it all, I find it important to stay conscious of the experience as a whole. This particular experience began with one of my absolute favorite drives.
The three hour trek from the Saratoga, New York area to Burlington, Vermont is comprised almost entirely of beautiful countryside and scenic mountain views. Having left somewhat late in the afternoon I was able to soak the best of it in under the glow of an awe-inspiring Vermont Sunset.
Upon arriving in Burlington, I met up with my friend, Colleen, who lives in the city. This was her first Spafford show, a S'nerd in the making. Per her recommendation, we promptly made our way to a pizza shop, Mr. Mikes. For those of you who may visit Burlington, Mr Mikes is a pizza shop/bar that is just a couple doors down from the famous Nectars where Spafford killed it back in April. It may behoove you to know that Mr. Mikes is also open well past midnight, super convenient! After inhaling a slice we made our way over to Higher Ground.
We made it to the venue just in the nick of time as the band began Lonely while we were at the will call window. As much as I love the song, I thought Lonely was a bit of an odd choice for an opener, but once the jam picked up there were no doubts.

Coming in hot in the second slot was The Postman delivering the funk as always and officially setting the pace for the night. Next up was Leave The Light On which included some deep type two jams both before and after the final verse. Jordan even treated us to some thick laser beam tones during the exploration. It seems every time I hear that song they take into a little deeper territory than the last. And then, Slip and Squander made an appearance, ending the set. That is where the emotional aspect of this show began for me. The first time I saw Spafford live they played Slip and Squander. I had never heard it before and it absolutely consumed my soul, and has ever since.

"Blue tarp, wild eyed, puddle in my palm." I get chills every time I hear Red sing Chuck's beautifully written words. And the instrumental section that follows carries immense energy every single time. This is where the emotions started turning for me on October third, but the night was very young.
Todds Tots flew out of the gate to open the second set and I was pumped. I love this song! This high flying version had everybody amped up to see what else was in store for this set. Following this was a very cool moment. Red had the lighting director turn the lights up and then beckoned him onto stage. After a bit of confusion and struggle (the stage was not very big) he made his way to center stage for Reds introduction. His name is Ben and it just so happened to be Bens birthday! So, after a rousing version of Happy Birthday sung by everyone in the room, Red sent Ben back to his throne to "make us look cool." And he proceeded to do just that.

The epic All My Friends > Bee Jam > Walls that followed contained the most interesting lighting work I have seen at a Spafford show to date. This venue had much more space behind the band for a lighting director to work with than in other venue Ive seen Spafford in. This allowed Ben to really flex his skills.

For a few minutes somewhere in that 3 song segue the band was in a deep dark ambient jam featuring more laser beams from Jordan and a lot of weird synth work from Red. Ben had the lights on the band off and instead was using the back wall to paint beautiful shapes and make them dance. I was impressed, and captivated. The second set ended with a classic rendition of Electric Taco Stand which left me continuing to chase my Alternate Ending. I felt as if it was a bit of a short second set, but the ensuing moments explained why.
Spafford: 2017-10-03 - South Burlington, VT - E: Tom Petty Tribute – 18:02
— Spaffnerds
During the encore break one of the crew members came on stage and placed lyrics out for each member. "New song?" I thought. Red came back on stage first and began an incredibly heart felt solo. When the chords changed for the intro of Learning To Fly I absolutely lost it. I immediately turned to my left and hugged a perfect stranger. The emotions poured out of every corner of the room during that 3 song encore. Everybody sang and danced, everybody laughed and smiled, and some probably even cried. I was raised on Tom Petty'ss music. He was one of the first acts I saw live and I needed that moment to reflect. I think a lot of other people in the room that night needed it too. When Brian climbed down off the stage in front of me I could not help but hug him and thank him for doing that. Rest in peace Tom.

Some bands stir an emotional magic inside of me. As Ive told others in the past, Spafford has that thing about them that sometimes makes me cry. Im not quite sure what that "thing" is but I will follow it to great lengths. Im looking forward to my future with this band and all of the people who will chase that feeling with me. Heres to many more.