Setlist, Recordings, and Attendance for: 2017-10-07 - Port City Music Hall, Portland, ME
This past weekend has been one of favorites in my year of going to see jam shows on a regular basis. Spafford was one of the last few bands I had left on my wishlist, and finally being at these shows after buying the tickets back in June was completely surreal. I met a bunch of people that I knew from the Facebook groups (George, Brett, Kyle, Cody, Delaney, Seth, and Wes, thank you guys for making it such a fun time!), raged with the Spaffnerds' resident insane man Kyle Burbank for two shows (He was seeing Seven in the span of eight days), and got to embark on I what I believe is my longest solo road trip.
Pre-show:
The morning of October 7th, I woke up on my sister's couch in the South End of Boston. I had just raged the sold out show at The Sinclair the night before, and I was jonesing for some more Spafford as soon as I woke up. After a quick shower, I said my goodbyes and started to head up to Portland, only to get stuck in standstill traffic for close to an hour in Lawrence. Once I'd gotten through the traffic, I kept trekking towards the city, only stopping to grab lunch in the Maine-renowned Kennebunk rest stop.
If you've never been to Portland before, you probably don't know that it is one of the hardest cities in New England to find an overnight parking lot in. Kyle arrived to the city pretty much right when I did, and the two of us spent half an hour driving around the same span of four blocks over and over trying to find a decent space until Kyle found an overnight lot (which we later found out was false advertising) by the Holiday Inn. The two of us proceeded to wander around town for a good 3-4 hours, just talking about music and life and anything that came to mind while we aimlessly explored the streets around the venue.
After watching a chunk of soundcheck through the front door, we had a very interesting conversation with a homeless man, and then met up with Cody and Delaney to grab food before the show at this place called the BRGR Bar. We chowed down on some pretty tasty burgers, headed into the venue (which required Brett to pretend to be my dad; thanks again Brett!), and positioned ourselves on the rail, preparing to have our faces melted off. What ensued was one of my favorite shows I've ever witnessed.
The Show:
Set 1:
Memphis in the Meantime > Walls:
As soon as they broke into Memphis, my face cracked into a big, goofy grin. My dad raised me on John Hiatt, so when I found out they played this song in Charlottesville, I was hoping they'd play it during one of my shows, and boy did they deliver! They played through Memphis pretty normally, and after Jordan was finished singing, they broke into a nice, laidback funk jam to get us in the mood for Walls. Walls wasted no time getting into things; they brought us right back into that funkiness they were playing around at the end of Memphis, and Brian started to shred like there was no tomorrow. Cam was absolutely killing it, bringing a back beat that started the dance party early. I think during almost every song I heard someone say something along the lines of "Wow, their new drummer is incredible!" They kept a good groove going before ending the song with no distinctive peak, just a good amount of group improv.
Legend > Backdoor Funk:
Legend was a nice cooldown after the funkfest that was Memphis > Walls, and provided a new experience for me as I'm not extremely familiar with the song. I should mention, Boston & Portland were my first two shows, so this was my first time hearing a healthy portion of these songs. During Legend, Brian started to use his whammy pedal as if it was a whammy bar, (I think I didn't really notice him doing that in Boston due to the fact that we couldn't see his board from where we were) and I started to notice that he kept looking at me while he used it. This moment started an amazing trend throughout the night.
Before the Boston show, I found Brian and Jordan up the street from the venue, and I showed them that article I had written about their gear, which they both complemented and provided corrections for. For a majority of the Portland show, Brian would look right at me whenever he started to do some weird stuff with his pedals, and it was one of my favorite parts of the whole weekend. Brian continued the train to shred city a little bit towards the end of Legend, and then they broke right into Backdoor Funk.
Backdoor Funk was the first big jam of the night, with a very tense build-up section that broke into an amazing peak that put a smile on every face in the room. Brian was keeping the shred city train going yet again before they slowed it down a bit and he took a very thoughtful solo. He looked directly at me yet again during the middle of this solo, which was cool as all hell because he'd had his eyes closed for a majority of it. They jammed on it for a little while longer, and then decided to end the song.
Funkadelic > West LA Fadeaway:
Funkadelic was another new one to me; I thought the whole song was just a random jam, but was surprised to find out what it was from the Spafford Twitter account during setbreak. Funkadelic definitely kept the heavy jamming theme from Backdoor Funk going, keeping a steady, tense groove going the entire time. Cody had thrown some I'm Killing It stickers in between Jordan and Brian's monitors before the show started, and Jordan was looking at them any time he didn't have his eyes closed during Funkadelic. Towards the end of the song, Brian turned on both his digital and analog delay and looked right at me afterwards. They ended the set with West LA Fadeaway, which was the second Grateful Dead cover of my mini-run. The whole crowd sang along with Red, and Brian took one more killer solo before they went back for set break.
Set 2:
Lonely >:
During set break, I was holding down our spot on the rail while everyone went and bought more drinks, and once they got back, I went to go grab a water and use the bathroom real quick. I introduced myself to Jordan's girlfriend Lizzie on the way to the bathroom (she'd shared a super useful picture of Jordan's board while I was trying to figure it out, thanks Lizzie!), and had to run back to the front of the stage once I realized they had started playing.
Lonely was a very good start to the second set, with the highlight being the super quiet (low volume) jam, which caused Brett to yell "Jordan, where are you?!" when Jordan started to play particularly soft. This song had the second big peak of the night, with a crazy build-up section leading up to it. Little did we know, this was getting us ready for what was about to happen.
Weasel > Palisades > Weasel:
This is the section of the show where they started to get down and dirty. I have never experienced a cooler jam vehicle than this Weasel > Palisades > Weasel. Up until last night, I've also never had the urge to headbang at a jam show, but Weasel was going so hard it was impossible not to. Almost immediately they went into a weird electronic dark jam. Red was using one of his synths to create these long flowy pads, while Jordan started to utilize some of the bass synth available on his pedal board. In my notes I wrote "this tension could be cut by a knife," which was 100% true; they kept building and building for what felt like an eternity, and we all started to get anxious. During this whole jam, the Lighting Director didn't have any lights on the guys, just using some smaller ones for effect, and right before the peak I looked over at Red in the darkness and caught him smirking at me. The peak cause more headbanging to ensue, and then they went right from the peak to a slower, ambient jam that was being used to go into Palisades.
Palisades felt much shorter than both parts of Weasel, but it might've been my favorite part of this big ol' jam sandwich. It felt like they were taking us to a fantasy land through the music, and in this fantasy land we were having a huge dance party. Red was smiling for the entire jam at the end of Palisades, which was brought up into what felt like a rather short peak, and then they went back into another dark Weasel jam. They built up another extremely tense jam section, and finally released it with another headbanging peak that glued a smile on my face for the rest of my night. After they had ended the crowd was so impressed they were screaming for more, and all four guys on stage looked so happy about what had just happened. It was a truly special moment!
All In:
All In started to bring some of the funky jamming from the first set back into mix, and began with everyone singing along which caused Red to continue cheesing. The jam in All In got just dark as Weasel > Palisades > Weasel, and really combined the funk of the first set and the headbanging that took place in the previous song. During the darker section Brian turned on his digital delay and got weird with some pick scratches that were super spacey, and then they brought it into this weird section of a funk jam into a heavy jam into an almost ambient jam in the span of five minutes. During the ambient jam Red took a killer Hammond solo, and Jordan was bringing back that bass synth sound he was messing around with earlier in the set. They brought us up to one more super tense jam section before bringing it to yet another head banging peak that literally caused Red to jump out of his seat.
Beautiful Day:
There is really not much for me to say about this song other than the fact that it's one of my favorites, so I was very glad to end out my weekend on this song. It really hit me in the feels last night, because it kind of made me reflect on the two Beautiful Days I'd had with all of my new friends this weekend. The lyric "I know that days like these come around only once in awhile" hit me especially hard because I knew this euphoric feeling I'd had all weekend would be coming to a close soon. It was an amazing way to end the second set.
Encore:
America > The Reprise:
I didn't write too many notes about this section, because it was so much fun! More headbanging took place in this one, and they did another weird ambient jam in the middle of America where Red was going at it on his synth. They wasted no time jamming right into The Reprise, which Kyle was very happy they played because he had only heard it once in the five shows he'd seen already. It was an extremely fun encore, and a great way to end a truly mind blowing show.
Post-show:
Once the show was over, Kyle, Cody and I stayed by the stage, gunning for one of the setlists. Kyle had introduced me to their guitar/bass/keys/drum tech, Bob, the previous night in Cambridge, so he gave one to each of us, but Cody didn't manage to grab one. We all said our goodbyes to Brett, and the security guards were starting to usher everybody out, so our whole group went out to the sidewalk to continue our conversation. Around midnight, I said goodbye to Cody and Delaney (pretty reluctantly, because they were super fun to hang with all night), and Kyle and I started to head back towards our parking garage.
Our parking garage just so happened to be the street over from where the band had parked their bus, and while we were walking down the sidewalk, we ran right into Jordan and Lizzie who were outside the venue smoking. Jordan greeted Kyle and I with "Ah, my two favorites!" and a huge smile on his face, which might have been the coolest thing to happen to me all weekend. We hung out with them for a good 10 minutes just talking about the show and how our runs had been going, and Brian walked through at one point FaceTiming his wife and recognized me as the dude that was super into their gear. Jordan mentioned that he thought of me a couple times when turned on his Bass Metaphors pedal, because we'd had a conversation about how weird it was the night before, and he said he'd try to keep me updated on his board so I could keep the Spaffnerds article up to date.
We thanked Jordan for the amazing show, said goodnight to them, and kept venturing back to the garage that started our whole adventure off. After a little more conversing, Kyle and I said our final goodbyes, heading our separate ways. This weekend was one of the most fun things I've done in a long time. Getting to meet some of my musical heroes and have them already start to recognize me, raging with a bunch of S'nerds that I've been wanting to meet for a while, and adventuring around coastal New England. I wish this weekend had never ended, but I'm extremely grateful it happened.
Setlist, Recordings, and Attendance for: 2017-10-06 The Sinclair, Cambridge, MA
Beantown on a beautiful Autumn evening. I will admit my expectations were high as I exited I-93 and began to snake my way through he narrow streets of Cambridge. The Sinclair is a gorgeous theatre with a wrap-around balcony, seating just over 500 people, in the heart of Harvard Square.
I intentionally arrived a few hours early to avoid traffic, meet up with some fellow S'nerds and pregame a bit. It is said of one band in particular that you meet the "nicest" people on their tour...I have come to believe that you meet the most awesome people on Spafford tour! Fast forward, S'nerds assembled, tots from Tasty Burger consumed, ticket from Will Call procured, and right through the glass doors we go. Make one quick stop at the merch table to score that Jon Rose Fall V.2 print and to the rail we saunter.
Soule Monde opens the show, and for those of you not in the know, Soule Monde is composed of Ray Paczkowski and Russ Lawton. They are an organ/clavinet and drums duo that essentially spent the better part of 45 minutes funking the living shit out of one another. What a blessed way to get the evening lubricated. Toward the end of their set, the eager crowd had started to thicken. It was the consensus of my crew that we should rendezvous outside for some fresh air and rehydrate before Spafford took the stage.
On our way to the door, my friend George attempted to leave a pile of "Kiliing It!" slaps in the bar area. A random fellow approached and curiously inquired, "hey, are you the guy with the stickers?" "Fuck yeah, you want some?" offers George. " No man, I don't. And if I catch you handing those out I'm kicking you out...I'm serious! I have to spend all day tomorrow peeling those things off of everything in here." Well, after some reassurances and pleasantries, we walked straight out front and handed out every slap we had among us (it was a lot). In the midst of our hijinks we spy Cam, Brian, Jordan, and Red out front engaging the crowd and hanging out. Got a dap from Red and a compliment on my G-Way shirt that I was proudly rocking. With my smile permanently fixed, it was time to head back inside and claim our spots at the Blessed Rail.
From the edge of the stage I took a squint at the room and it was now a full house. The feel inside the room was pure excitement. The Sinclair was a palette of unique individuals from all walks of life, fervently ready to get down...cue the band.
The night begins with a mellow jam [Sinclair Jam] to get people's heads bobbing and hips swaying. It does not take the band long to introduce Boston to what the buzz is all about. In true Spafford fashion, the boys turn IT on and the entire house is now bouncing and wooing, (yes, wooing.) It is now apparent that we are in for a splendid evening. The jam drops into a tight and pretty straightforward Todd's Tots. It appears my pregame ritual has paid dividends and it feels a shame I didn't save a couple to toss back into the crowd.
Slip and Squander appears and takes the temperature of the room. Indeed, Beantown has a lot of heart and was hanging on Red's soulful run through one of my favorites. I mentioned the woo earlier and the crowd was particularly wooful during a quick and kinky little Space Gadget. When the next song started I really had to bend an ear at first to gather what I was hearing. Once identified, it was then that I gained a true appreciation for Spafford's ability to gauge a crowd and balance the mood of a room.
I Shall Be Released flooded the theatre with a soothing reggae vibe that had The Sinclair swaying, singing, and grooving right along. The band swelled into a giant crescendo that hit like a breaker onto a jetty and erupted into a frenzy for the opening riff of Electric Taco Stand. It was during this turn through ETS > Dis Go In 5? > ETS that I really tuned into how tight the band has gotten over the last few months. ETS provides several start-and-stop moments throughout the progression and every member was locked in on one another. While this is not the longest ETS jam I've heard, it was most certainly packed full of energy and when it ended the house went nuts.
The second set opened up with a Spaff-test for the audience in the form of Salamander Song. When to "hey" (and not to woo) being the litmus...let's just say that not many in the audience are getting into Harvard's Jam Program based on these scores. What I can say is that the band was smiling the whole time and it was plain to see that they were feeding off of the crowd's enthusiasm. Salamander built itself into a blissful serenade "dancing the whole way home."
Brian then asked, "Boston, how you feeling?" After a brief pause the band showed Boston who they were feeling as Feel Like A Stranger, the Grateful Dead original poured forth from the speakers as Red sang out "It's gonna be a long, long crazy night!" In recent years I think we have all experienced some great Dead covers. What struck me about this one was that while it was entirely recognizable, it felt completely true to Spafford"s sound. They have an incredible talent for picking excellent covers and making them their own.
Next up was Plans, which was new to my ears. This tune really bopped at the onset, but once it left the lyrical portion of the song...eeeeewWheee!!! All of a sudden the music from the PA took on a new form: you could smell the music, almost taste it. I've experienced this before and it was that unmistakeable funk! For those looking for "moments" within a show, do yourself a favor and give this song a listen. Just do it when you have access to a shower, because this jam was FILTHY and soap and water will be required to get it out of your ears.
I was in Vermont on Tuesday night when the guys debuted Breakdown during their Tom Petty tribute encore. The song made its second appearance and, as I mentioned before, Spafford really has a way with covers. Respectful and true to the artist who made it famous, while making it entirely their own.
The second set ended with an otherwordly Leave the Light On that saw every band member showcase their skills on their instrument, working in complete harmony with one another and creating a Type II soundscape that was an absolute joy to witness live. The transitions from the jams back into the song structure were flawless. While the band was a whole, it is worth mentioning that Cam was functioning like an absolute freight train throughout the latter part of this one and his influence turned my head more than once. The crowd was roaring when the Light went out.
After a brief break the guys came back out and mellowed the crowd back down with a very pretty take on Sweet. Again, setting the mood. Spafford continues to amaze me with their ability to gauge the tastes and vibe of a crowd and direct it accordingly. With that thought fresh in my head, The Postman showed up at The Sinclair and delivered the crowd a spaced out finish to an incredible evening of perfectly placed ebbs and flows.
As we filed out, myself and my band of S'nerds were all smiles and giddiness. Spafford came to Boston, sold out The Sinclair, and threw down an absolute burner for all in attendance.
Setlist, Recordings, and Attendance for: 2017-10-12 A & R Bar, Columbus, OH
I want to start off this review with some of the people "behind the curtan" so to speak. These guys make the magic happen for us. Spafford is that magic. I am new to the Spafford scene so I don't yet know their names, but the techs for Spafford have really set it up nicely for each show I've attended.
First up Spafford opened with Ain't That Wrong, which really told everybody who was unaware that they were in for a fun night that would go by too quickly. Right into a cover of Green Day's Longview >Lonely jam that surprised me for sure!
Red was up next for his ballad, and one of my favorites, Beautiful Day. It surely was just that, a beautiful day! It was one song I've been wanting to hear live since I first discovered Spafford back in February.
Dis Go In 5? was up next back into Red's Jam > Weasel to close out the first set. It was like a huge cliff hanger leaving the entire crowd wanting more! So much energy and good vibes in the first made me wonder, "How can they top that?!"
They opened up the flood gates on the second set with Funkadelic. What a heater! That got everyone back to the stage in a hurry. Up next was a funky tune called In The Eyes Of Thieves.
They closed their set out with probably my three favorite tunes in a row..... Leave Your Light On > The Postman and, as an encore, Salamander Song. It's like they knew what I was thinking! What a great band and great set. I was able to snag one of the numbered tour posters too! Make sure you get one of those!
Photo Credit: Michele Felker
Setlist, Recordings, and Attendance for: 2017-10-05 - Iron Horse Music Hall, Northampton, MA
I headed to Northampton after work on Thursday afternoon with a raging headache and killer hangover from the Outer Space show the night before. I checked into my room downtown and headed to the Tunnel Bar/Platform for the meetup. I had two high school buddies in tow, both with no prior experience with Spafford. (They loved them BTW.) I was most happy to see @Kyle-Burbank and @uconnwes again- we had such a blast raging together the night before. We kicked it outside in the fairly warm October air for a bit, blazed up, and talked about what we hoped to hear that night while the band milled around their bus smoking butts and mingling with us.
The *Iron Horse is an older, smaller venue with a real old-school living room feel—kind of like your grandma's house that hasn't been updated since 1976. An older beatnik crowd took up the tables and chairs that lined the walls. The small balcony was kept roped off. The stage was small, without a lot of room for the band to move, and there was no real lighting rig so the venue kept the house lights on... for the whole show! There were two cans with a green and red light that stayed dimly lit as well, but otherwise effects were as minimal as possible.
Windmill got us off to a solid start, never really straying from its structure but delivering just the same. A quick romp through the bluegrass jaunt of Hollywood lent an easy-breezy feeling to the set. My friend leaned over and said something about how any song with a whistling section is awesome. The band then switched it up into a bouncy shuffle jam with all four members totally locking in. Brian brought the energy way up with a searing bluesy solo while Cam killed a funky ride bell pattern.
Out of this jam, Red began some beautiful melodies as they landed on their first cover of the evening, Standing Outside A Broken Phone Booth With Money In My Hand. It's the kind of song that everyone knows, they just don't know they know it. The looks of surprise were everywhere as people began to figure it out and nod in approval. Brian crushed the ending solo as it turned into a dark and heavy jam. The setlist labeled it Space Jam and the band certainly did their best to make us feel like we had just landed on the freaking moon. Red's opening notes of The Remedy snapped us all back to reality as we gathered our brains just in time to have our faces melted by a Brian-heavy version of the tune.
The rocking Dream Jam that followed gave way to the super-funky, Red-sung, JJ-Call-favorite After Midnight. (I incorrectly thought it was going to be Midnight Rider... It had the same bouncy/funky intro... It fooled me bad). Midnight kept it upbeat and funky until the last few minutes where they slowed it down to a real bluesy rock jam to finish up the set.
Set break involved more weed, more hugs, and excited talk about Friday's coming show in Boston.
A rocking Seven opened up the second set, followed by the improv standout of the evening, In The Eyes of Thieves, where the jam included several movements and peaks. A standard America followed with The Reprise right behind, which seemed to have a little bit of extra sauce at the end. Mind's Unchained closed out the set with as loose of a feeling as the show began, and with a powerful solo from Brian who let rip with clear, clean tone.
The band left the stage for only a moment before returning for Into the Mystic, which had everyone swaying and singing along joyfully, feeling the vibes as Red poured it all out on stage.
Outside the air had cooled as friends parted ways and we headed off for a slice at Mimmos before they closed up for the night. Sleep was a must... The Sinclair was up next!
Thanks @uconnwes for some of the pics!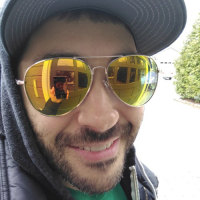 Nerds! I'm incredibly excited to announce the newest source for recordings in the SpaffBase, nugs.net! We've hooked up with the guys over there to link to the band's official releases right here on Spaffnerds. We strive to be the one stop source for your Spafford listening needs and we know that the inclusion of this content will only further that goal.
To celebrate this occasion, we are running a drawing for a chance to win a nugs.net subscription that will cover the remainder of Spafford's fall tour. All you have to do is reply to this post saying you want to be included and you'll get a spot in the drawing.
We also want to take this opportunity to ask you to help us fund this site. The time and energy invested are huge, but that's a labor of love and the team is happy to do it. Beyond that though there are real dollar costs involved in running and maintaining this infrastructure. If you use this site, please consider making a donation to support it. I feel a bit like NPR right now, but believe it or not, we are listener supported.
We have a few subscriptions to offer and we want to get them into your hands. To do this we will structure the drawing as follows:
The prize is a 3 month all access subscription to nugs.net.
The drawing will take place on Tuesday 10/18/2017 at 8PM Arizona Time. It will be live streamed.
Names will be placed in a list which will be randomized and numbered. A random number will be generated and the name which matches that number will be chosen as a winner.
Depending on how the fundraising goes we may add an additional 3-month subscription to the drawing. Generosity is contagious. We will announce any additional subscriptions in this thread, so keep an eye on it.
Donation is not required to participate in the drawing. If you decide to donate, please post your donations to our paypal account. https://paypal.me/spaffnerds/5
We suggest $5 but don't let that hold you back. We'll take $1 and we'll take $50. Any amount helps. We ask that you use the "friends and family" option to avoid fees. If you need to use a credit card the fees may be unavoidable, that's okay.
Thank you, the Nerds, for what you do on a daily basis to make this site great. Without you this is just a web space. With you this is a community.