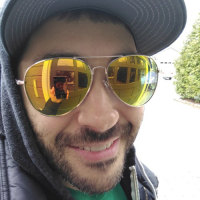 Nerds! We're extremely excited to offer you the chance to win (2) weekend passes to the Element Music Festival in British Columbia, CA. You'll get to see Spafford play 3 sets, including one without a curfew. So hold onto your butts for a wild ride.
Tickets are available here but as mentioned you can win a pair of weekend passes. Here's how it works. Share this post to social media (Facebook and Twitter are our favs). When you do tag your friends and then come back here and post a comment. Please let us know how many of your friends you tagged and/or how many times you shared. We really want to help Element get the word out, so the more you share, the more times you'll be entered in the drawing. We'll go on the honor system but if it turns out you won and you lied... you're gonna have a bad time. Oh also, we want to get entrants who are not already in BC. If you're local, go support your local festival. Our goal is to help get Nerds from the states to head up to see this amazing place.
The contest will be open from Monday 5/14 through Friday 5/18. We'll do a drawing on Saturday Morning and we'll announce a winner here and on our Facebook and our Twitter.
It's hard for me to describe how beautiful this place is, so I'll just show you with some of the pics that the team provided to me. Check this out:

And the stage is absolutely gorgeous too.


With collaboration and sit-ins being an encouraged activity:

You should go to this festival. The location is serene, private, and absolutely divine. The bands are top notch, and the promoters are super cool people. If the circumstances of my present were a little different we would be headed up there to escape the heat of the AZ summer and breathe in a bit of fresh, Canadian air.
SPAFFNERDS! I need your help my friends!
Im convinced that Spafford has some of the most amazing / dedicated fans out of any upcoming band in the scene!
Here is what i need from you, and in return, i will offer you a gift for your time.
Without blowing the surprise too much, I'm working on a project for the band. What i need from you is YOUR MAIL!
Thats right. I want you to mail me a letter. This letter is going to be used as a Prop in project that im working on. Here is the guidelines:
Mail me a letter to here:
( FOR THE NAME PLEASE USE YOUR FAVORITE SONG TITLE )
5014 N. Valley View Rd.
Tucson, AZ 85718

Dress up your letter envelope! Write on it, color it, make it your own! This is your time to shine and get your personality displayed on this letter.

The letter envelope is the thing being used as the prop, so please don't worry the inside.

Letter can be any size (no packages please)

Looking for these colors if possible - RED - BLUE - WHITE.

Im going to be blurring out your return address so no need to worry about your address getting out.

If you would like the small gift, please included a Stamp in your envelope! You present is a collection of NEW - Im Killing It - Stickers… You haven't seen these before.
I know this seems like a lot of work, but trust me, your help will make this project so much better!
Cheers y'all!
Setlist, Attendance, and Recordings for: 2018-05-05 - Nola Republic, New Orleans, LA
After the madness of the first night (and day for the band) in New Orleans with missed flights, sit-ins, bust outs, and debuts, I arrived at Republic NOLA for Spafford's second late-night show with sort of blank expectations. I was happy to see both familiar faces from the night before and some new faces hanging out around the doors and more of the same as all of us were let in. The band came onto the stage at 2:15am.
Spafford continued the "Album Release" show theme and opened with When It Falls which started the night clean as no jam was attached to it this time. Todd's Tots got the jam juices flowing and the lyrics "I don't like sleeping at night" had a little extra oomph behind them in a late-night setting. Tots was highlighted with an excellent solo from Brian.
The pleasing light and fluffy guitar opening of Simon and Lily was next which come to find out was the song with the biggest show gap of the night (Last played 2018-01-14). To put an emphasis on what comes next only about 20 mins had passed during these three opening songs.
The opening composition section of The Postman began to fill the air and gave us our last bit of fresh air before plunging deep into the psychedelic realm. Postman's jam got locked into a nasty funk rhythm that allowed Red to bust a solo out, Cam to get some E-drum work in, and had everyone including the band dancing and bobbing along. Brian then left faces on the floor with the guitar solo and as the song ended the full volume of the late-night crowd was felt.
Mind's Unchained followed and kept the vibes going as we soared through the clouds on the jam then pushed to space during the peak highlighted again by Brian's solo. All In came next and solid work on the composition half of the song set up for the jam of the night as Cam was absolutely killing it. Wild fills from Cam allowed for the rest of the band to just continually riff on top and had me going hard in the paint. JP and I looked at each other afterwards and just laughed.
America finished off the set which was the only song of the set not off the new album "For Amusement Only." After a quick encore break, Spafford came back on and busted out another new cover Van Morrison's Cleaning Windows which was sung by Red. Cleaning Windows transitioned straight into The Reprise providing New Orleans with their last bit of Spafford late-night Jazz Fest funk.
Those of you going to Summercamp have an awesome time! I'll see the rest of you at Red Rocks :)
Setlist, Attendance, and Recordings for: 2018-05-04 - Nola Republic, New Orleans, LA
Wake up 4am. New Durham, NH. The Live Free or Die State. Responsibly head off to work and achieve for 3 hours. Leave instructions for coverage and proceed to the Commonwealth of Massachusetts so that I may board the Aluminum Albatross and ferry passage to the Big Easy...New Orleans, Louisiana. Apply lubrication to the mind and soul. So far, we are off to a splendid beginning.
The Spafford of Arizona is performing two late night shows to close out Jazzfest and today is the release of their album, "For Amusement Only." Months ago, when the shows were announced, I was offered room and board from Team IkoIko and I could not refuse the opportunity to bear witness and experience Nola for the first time.
I won't bore you with my exploits leading up to the Spafford show, but there were beverages and another unnamed show to get prepared for what lay in store. We arrived at Nola Republic a little before midnight and were the second folks in line. There was a show just finishing up inside the venue so we watched as that crowd filed out and we mingled with some anxious Nerds and a few Nerds-to-be. We were granted entry and I quickly made a beeline to the merch table to procure and thank @Jon-Rose for the incredible print that he did to commemorate the two night stand in the heart of Nola Jazzfest. We were all pleasantly surprised to enjoy the band's soundcheck, as they were literally getting set up as we came in. A few people quickly noticed that Joel Cummins from Umphrey's McGee was in attendance and the whispers began, hoping for a sit-in...more on that later.
The show opened with an energetic Dis Go in 5?. I was honestly shocked to hear this in the opening slot, but immediately questioned why? Dis Go makes an incredible opener! Despite having to deal with a canceled flight and driving in from Dallas...the band was in high spirits and full of vitriol. The sonic keyboard opening of In The Eyes of Thieves filled the heavy rafters of Nola Republic and the crowd responded in kind. This was the second inkling that the evening would be special. Following the structured and vocal portion of the song, the band launched into a deep, spatial jam that was accompanied by some spectacular work on the lighting board from LD Ben Factor. As much as Spafford would rule the evening, Factor also showcased his ability to drape music visually in improvisational, expressive fashion.
The first song of the evening off of the freshly released album came in the form of a wonderfully jammed out Leave The Light On. My quick notes from this simply state, "first jam: experimental, second jam: epic psychedelia." This is where I tell you to go straight to the media player and listen for yourself, because words will honestly fall short of accurately portraying how these jams were crafted.
Fuel made its live debut following LTLO and stuck to the frame of the album. As this song goes into rotation I'll be curious to see how the band works it up.
The myths became truth when Brian welcomed Joel Cummins to the stage to do work with Red on his expansive rig of keys for Ain't That Wrong. The two did get right down to business making a funky, groovy double-helix together. Cameron and Jordan added some bump and Untz to the mix before Brian set the Raven free to soar above the rustic timbers.
I could not place why the next tune sounded so damn familiar and I begrudgingly put it down as a question mark. When I awoke this morning(afternoon) I double "doh'd" when I saw that it was Steve Kimock's Tongue N' Groove. As a long time lover of Zero, KVHW and all things Kimock, I was bummed that I failed to identify it in the moment. I'll do better, I promise.
It was Red's turn next as he took us down My Road(My Road) Always a great jam vehicle this offering did not disappoint either. Again, Factor injected his visual enhancements with some phenomenal work on the projection screen directly behind the band. There were many, many smiles and knowing looks exchanged as Red's haunting vocals brought My Road to a close.
Herbie Hancock's Watermelon Man brought the show to a close as members of the band took turns laying down solos on their respective instruments. I will admit I am still very new to the Spafford scene, but this was my first experience seeing Jordan and Cameron take an extended solo. I have it down as "Jordan bass solo, Red key solo, Cam drum solo, Red organ solo."
At almost 4am the band left the stage for a brief break and came back out and opened up the Electric Taco Stand for a blistering encore.
After a few hugs, smiles, and high-fives we made our way out into the early morning streets of New Orleans. It had been a long glorious day and some zzz's were in order. For all of the trials the band went through to make that show go on, they didn't let it show. Spafford delivered a spectacular performance in their return to the Big Easy and left it all out there on the stage.
So Spafford dropped the latest single off of For Amusement Only today-- Ain't That Wrong. It's linked up through an article on Relix. It's so difficult, and perhaps meaningless, to pick a favorite Spafford tune but gun to head (as @603Brett likes to say) ATW is my boo. So needless to say my expectations were high for this studio treatment. And needless to say I'm a Spafford LIVE fan first, Spafford RECORD fan second. But, wow, they really really really did a nice job with this one. The sax section fits perfectly and gives it enough flair for 4:30 minutes to channel some of that upbeat energy that the 10-20 minute live versions supercharge the crowd with. Read the Relix article to find out how the sax section came about and then ask yourself, "Do I believe in Canine Angels?" I DO.