Setlist, Attendance, and Recordings for: 2018-12-30 - The Van Buren - Phoenix, AZ
My review for Night One of the two-night New Year run at The Van Buren is a story about a Florida Nerd, his Florida Nerd crew, and our experience in Phoenix. Here are some things I knew going into the first show of the 2018 New Year's run.
One, I love this band. Two, I am going to see my favorite band in their hometown. Three, I would be meeting some of my fellow Florida Nerds in Phoenix. We Florida Nerds, myself, Josh, Billy, Nia, and Vanessa dubbed ourselves The Florida Contingency. What I did not know was how would the Nerd Herd react to and welcome my Florida crew? The answer to my question was answered immediately upon arriving at The Hyatt in downtown Phoenix. I got out of my Uber and immediately saw the faces of happy and welcoming Nerds. This was the running theme for my experience over the course of the next two days. The exuberance and warmth shown by all of the OG nerds towards myself and my crew was overwhelming.
Upon arriving at The Van Buren you could feel the excitement. Everyone waiting in the unexpected cold of the Phoenix air knew we were in for a treat. The night's theme was A Beautiful Day, and many participated in the theme by wearing bright colors. While waiting I had the pleasure of meeting Jon Rose. Jon and I were familiar with one another from the Spafford Prints Facebook group. The gratitude Jon showed us for being there was amazing. Jon took time from his busy pre-show routine to talk to us and I will never forget this. This is a review of night one but I must mention something Jon did on night two. Before the night two show started he came down to the rail to thank The Florida Contingency for being there. He told us the story of his beginning with the band, the white light moment, the exact moment he had his vision as an artist and his place within the Spafford family, years ago while hearing Windmill. Mr. Rose I will never forget this story, it reminded me of an experience of my own.
Of course traveling from Florida my crew had to have the VIP package. For myself and the people I traveled with I feel that it was worth the small amount of extra money. The tacos were delicious- I mean, anytime you are offered cilantro for your taco you know you are dealing with authenticity. Once we had our fill of Tacos we were allowed inside for the sound check.
The Florida Contingency went separate ways upon entering. Josh and I got in the merchandise line to score the on-point print from Mr. Jon Rose. I love this print. The Zodiac signs and colors are perfect. Jon Rose has continuously brought the heat with each new print. Nia, Billy, and Vanessa secured our spot on the rail, right in front of Red. It was a spot we would cherish for both shows. From the first notes of sound check all the way to the last notes of sound check the crowd bustled with a massive amount kind energy. It was an energy that I honestly rarely feel at shows in Florida and I loved it.
Finally, the band came out onto the stage. There was an instrument swap going down. When the dust settled and the night's first song, Jailhouse, began Red and Cam landed at their respective homes, Brian had bass duties, and Jordan played guitar. At least ,this is how I remember it shaking out. This was the night's first bust out. I have seen it discussed online how a Sublime cover would suit this band and these discussions were on point. Jordan had lyric duty and he nailed it. The "had to be there" refrain was fitting for The Florida Contingency. We all made a choice of where to celebrate New Year's and we chose Phoenix. We were exactly where we were meant to be.
The night's second offering was Windmill. This song is a favorite of mine. The crowd was ebbing and flowing. Kindness was everywhere and when I looked around I could feel the energy of a thousand smiling faces lifting me to move. I believe music is something we all feel. That is why I go to shows. I want to feel emotions that only music can bring out of me. On this night this first happened during Windmill. When the chills kick in and my tear ducts welled up I knew I was home. As the song goes I was accepting the mood of the new grooves. I was thinking and dreaming again but I was far beyond fine. After the song Brian stated "That's all I've got for now." HaHa, lies.
Next up was Backdoor Funk. More crowd undulating and for me it was the first time of the night I really heard Red on keys. Red's got soul and I will leave it at that. I love the way the song's funky beats build. Of course the crowd loved it. It was during Backdoor Funk that I again realized how special the crowd was. Everybody was intently sharing space, chomping was low, and The Florida Contingency was making new friends. We met Dan, Lisa, Ray, more nerds than I can name, all amazingly generous and kind. It was during the face melting climax of Backdoor Funk that I earned my first Killing It slap. I had arrived.
The common binding between People like me and you on this night was our love of this band and their music. The crowd was acting like a singular tribe at this point of the show and it was love holding us together. As usual Red crushed vocal duties but none of us knew what was yet to come from Red on this night.
Eternity, damn right all my roads led me right here. I did not recognize the faces in the crowd but they kindly let me in. The music was coming straight from the heavens and we all belonged. I truly believe that the kindness of the herd will grow to legendary levels, we will be heard, and we will create the change Jordan sings about in Eternity.
I alluded to vocal greatness from Red in my blurb on People. With the night's second bust out we got it. We got to witness the amazing ability Red has vocally. (Not that we didn't already know, but reminders are fun.) Whipping Post closed out set one and I really have no words. This song was simply brilliant. They crushed it and I believe this song was a highlight for many in attendance. I would not be disappointed in the least for this song to make regular appearance.
For me, set break is special. Five years ago I was hopelessly lost in addiction. The only reason I went to shows was to ingest whatever was put in front of me. Now when I go to a show it is to embrace my spirituality and the creation of the All My Friends group has added something special to Spafford shows. At set break I went to the All My Friends table and was blessed to find a dozen sober nerds laughing, shaking hands, and killing it sober. It was another special reminder of the hospitality I was continuously shown by everyone in Phoenix. Being able to go to a meeting like this at set break is incredible. I hope to see this group continue to spread the word and grow. I assure you it is possible to kill it in sobriety.
All My Friends – Set two began with All My Friends and I feel I need each and every nerd in the room. I've come to believe that you nerds are my chosen tribe and we have all our days ahead. Musically this song was a perfect set up for what was to come. All our days were most certainly ahead.
I've got to lump the next group of songs played into one. Bee Jam > Weasel > Palisades > Weasel…… Earlier in the night Dan had told me the story of how the Bee on stage was born. Dan mentioned we were approaching the Bee's one year anniversary on New Year's. It was a great story and telling it was another example of the love shown to the Florida Contingency by the OG nerds. I love the dance vibe Spafford emitted throughout the entire show but the beats of Bee Jam get me. If you are not moving you must be dead. Jordan's bass is mesmerizing, Red's keys get into my head, Cam is a beast, then Brian goes full guitar face right into Weasel. More beats I can only describe as electro-disco followed. I will not have a difficult time remembering this Weasel. The crowd was getting down. I do not think there was a person in the room not moved to dance. It was special for me to witness. Personally, I focused on Jordan's bass. Admittedly, this was only my fifth show but I had never seen Jordan so into it as on this night. I heard he was using a new four string bass, but I am certain he was feeding off of the crowd as he furiously threw down his juicy bass lines right into the gentle sounds of Palisades. I wrote earlier about the feelings I get during the music. Palisades is all feelings for me. I get so emotional during this song. It is difficult for me to explain but I think about where I have been and where I am going. My entire life plays out in my head during this song and right at about the time my head might explode the music goes right back into Weasel. More electro funk dance beats. I loved it and so did everyone in the room.
Next up was Plans. There was a feeling in the air that all of our plans led us to the exact spot in time where we all came together as a bunch of nerds. Nobody in the room made a mistake or lost their way on this night. We came together for our love of all things Spafford. We made new friends and shared our stories. We came together for a special night and it was beautiful.
The encore's first song started with another bust out. Jordan stated he started writing some words down about being on tour and away from home, shared them, and was encouraged to finish his thoughts, thus the birth of Home (One Place I'll Never Be). This is a cool country song that obviously holds special meaning for Jordan as I could again tell he was enjoying himself. Of course, I love the Florida reference in the song.
As previously mentioned the night's theme was a Beautiful Day. The set list showed that originally Galisteo Way was to be played here but it was here where the only setlist deviation occurred. The boys opted to insert Beautiful Day here and it was indeed beautiful. What a show and what a great start to the NYE run. I want thank everyone I met in Phoenix for an amazing two days. I hope to see many of you in Florida in February.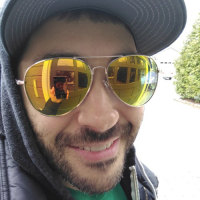 Nerds! What an amazing pair of shows in Phoenix to ring in the New Year. Even the jaw on the statue of Martin Van Buren hit the floor. These are not to be missed
Thanks to our wonderful taper community we have some AUDs available already so you can tap into the love while we all patiently await the official Nugs release. If you don't have Nugs, and you spent all your money buying the nerd next to you drinks on New Year's Eve, fret not! We're going to do a giveaway of (2), twelve month subscriptions to Nugs.net.
All you have to do is reply to this post and tell a little story about your new years eve experience. It doesn't have to be Spafford related, and it doesn't have to be brief, or extended. Just throw a thought or two about your New Year here so that we can all live vicariously through you.
You're also welcome to like our facebook page or follow our twitter account, and even subscribe to our youtube channel. But who am I kidding, you're already connected to all of those things, right?
Anyway, we've done this before. Let's say we'll end the entries on Sunday, 1/6/2019 at 12:00 PM Mountain time. That's 2 PM Eastern for all of you playing along at home. I'll do a facebook live video for the drawing and two of you guys will end up with a year of nugs for free.
Bay Area, Day 2: In the Heart of America
The Great American Hall is a storied venue. Its most well-known regular might be Jerry himself, having performed here under his own name, with JGB, and for the Grateful Dead's first From the Vault recording. Many other legends have recorded here, though – Doc and Merle Watson, Boz Scaggs, Robin Williams, to name a few. Immediately upon entering, you can see why: the walls and ceiling are ornately hand-carved, amenities are well-located and convenient, and the whole building has an air of professionalism.
With a capacity of about five times the Catalyst Atrium, I knew this wouldn't be as personal an affair as the previous night. But that was more than made up for by the larger room's benefits: the full light rig is on display here, complete with LEDs, and from the first note the sound was robust, crisp and sublime. We decided to maximize these factors by hanging around the back center of the room.
And what better first note for the American Music Hall than that of America? This song is unpretentious, heavy and propulsive, and often (though not always) foreshadows a Reprise. What's not to like? The crowd gets moving. Mind's Unchained is next on the list. It's well-played, a cartwheeling court jester next after the opener's unapologetic intensity; as instructed, we soak it in and ease the pain. This song's guitar part sounds inspired by the Dead to me, surely a crowd pleaser in this venue and with the night's Killing It sticker theme being a double Jerry.
Leave the Light On gets the next call, the female fan favorite song if you judge by woo-ing gender. LTLO's lighthearted lyrical vibe isn't everyone's cup of tea, and while the uninitiated might accuse it of being white-guy-reggae, folks who know buckle their seatbelts. The first jam sounds a bit like a Windmill jam, with Brian finding a nice upward phrase and working it for a while. By the time we get to the bit Red always works in to the second jam – I'm gonna go ahead and coin that Red's Theme – the band has already struck a furious pace. While this version doesn't go too far afield musically, the lights were spectacular in this jam. The LEDs gave the room a sinister vibe in the beginning of the jam and the whole rig was used to great effect up through the peak.
This version of People gets the Red solo treatment, with the band hanging around just a little more than usual. The rising chords in the peak always give me goosebumps, and with that we're sent off to set break. We rest our legs a bit and get a fresh drink – though there's no rush, since the bar line is never long in this place. I have time for a brief conversation with a stranger where we're not sure if the words of America go "I lost it somewhere across the fall" or "somewhere across the fault", which would fit given that this venue was built immediately after the 1907 earthquake. We settle in near the front, Cam-side.
Virtual Bean Dip has been my opener call many times, for some reason. Spafford loves contrasting ideas in their songs, and VBD juxtaposes syncopated, malevolent metal with calm noodly jazz. In this case we don't get my favorite part, the wild drum segment at the end, but that's fine because its foregone in favor of a sprawling 28 minute jam. The band is on their own time here, patiently working together to cover a lot of ground. They finds a nice percussive salsa groove, and the crowd is moving and shaking, but several times they opt out of a forced peak in favor of shining a light on the next musical nook or cranny.
The segue into Salamander Song is smooth and superb, and suddenly I know why I recognized the salsa groove from the previous jam. Who doesn't love dancing in circles and Hey!-ing, especially after the headbanging opener? VBD > Salamander has happened before, on 8/18/18 and 1/25/18 to be exact, and it makes a great combo. Spafford loves to go deep, as they did the night before at the Atrium. But some nights it's the breadth of what they can play that leaves an impression.
The so-called fourth quarter is kicked off with Plans. I'm alright with having seen this song a ton since its debut, maybe because the band plays the hell out of it. This one belongs to Jordan. He finds a refrain he likes early in the jam and sticks to it stubbornly. He and Brian have played together a long time, and it's clear in this jam, as he provides the perfect underpinning for Brian's explorations. Cam backs off to an ambient space, letting us breathe the music in deep.
My dad had mused that in 3 days we were sure to get a Postman, and he was right. This one goes fairly deep, with some great interplay with a descending riff, and a patient build to the song's triumphant conclusion. It's a great way to close a solid set.
Catfish John is a frequent earworm for me, and it's a fitting choice to close out the show here given that it was popularized by the Dead. It's clear that the band put some extra thought into their set list on this night. The lights, venue, and crowd were all great, and that helped magnify the experience. LTLO and Plans were my personal highlights. Perhaps just due to the stupefying musicianship I had just witnessed the night before, I couldn't help but think that the band was holding back a bit. But the run wasn't over yet, and there was no reason for them not to leave it all on the table the following night.
Setlist, Attendance, and Recordings for: 2018-11-15 - The Catalyst Atrium - Santa Cruz, CA
Bay Area, Day 1: We got all our days ahead
This show marked an interesting date for me, being exactly a year after the first Spafford show my father and I attended together, at the Doug Fir. We'd set the plan to do this run of Bay Area shows several months ago when Fall Tour was announced, and had been bouncing texts back and forth in building, eager anticipation since. Upon landing at SFO, the apocalyptic mood set by the catastrophic Camp Fire had us both feeling a bit anxious.
But downtown Santa Cruz got us feeling right. It's a pleasant place if you don't mind the occasional stereotypical drum circle, and the vibe heading into the venue was laid back. Upon entry we did have to double check to make sure we were indeed seeing Spafford, and not "Spiderfly" as they were billed by the bouncer – but yes, this was the place.
After festival season, with its predictably high-energy but compact sets, busy tour schedules usually sees bands physically tired but well-practiced and firing on all cylinders. I wasn't sure what to expect, but I knew with three shows we were likely to get many of the songs we both wanted. (My hopeful list for the run: Todd's Tots, Aeroplane, My Road, Broken Wing, and something Tom Petty.) And since the band makes a habit of doing an extremely improv-heavy show near the beginnings and ends of each tour (see 3/5/18, 3/15/18, 10/9/18, 10/19/17, etc.) I figured we had a good chance of a long expedition into uncharted terrain.
It turned out, we wouldn't need to wait long for that trip. While there was no "named jam", the Atrium show was a jam monster, with the average song length clocking in somewhere in the upper 20 minute range. Starting things off was It's A Bunch. Since I witnessed its perfunctory, 4-minute debut two years ago, this song has turned into one of the band's favored launchpads. Summer Camp and the 10/1/17 Parody sandwich are two of my favorites. The anthemic rock portion of this song has a driving optimism to it that always makes me grin, and when it opens a show it feels like the like music that might be played over a montage of a space shuttle being trucked over to the launch pad.
Things immediately got funky and soupy before turning dysphonic, foreshadowing what would be somewhat of a theme for the evening. It took the band a while to get into the groove here – perhaps shaking off a long tour, or settling into the comfort of the tiny venue. A long jazzy segment with some strange effects from Jordan eventually dissolved into a long thoughtful ambience. From here they built things back up in an interesting key, with shades of Stash contributing color and depth to a healthy peak.
The jam afterwards was so unmistakably Backdoor Funk that one could have forgiven the band if they forgot to sing the song proper. But they found their way to the Kafkaesque lyrics, and the song itself strayed far and wide. Red employing his delay pedal with piano over a mellow late-night groove from the rest of the crew was one of my favorite jams of the show, featuring beautiful and unmistakably Spaffy playing from the entire band. A Red-Brian call-and-response jam brought the song to its conclusion, and then, after an hour spent seemingly hypnotized, it was set break.
I was reminded at this moment of why I seek out these smaller shows: the laborious 10 foot journey to the bar, the ready and nonchalant bar staff, the elephant head on the wall and rowboat hanging from the ceiling, the adorably casual hippie vibe of downtown Santa Cruz just outside. And the strength-to-cost ratio of the gin and tonics didn't hurt, either.
All My Friends is a killer way to open a set, especially when there's only about a hundred faces in the room and many are starting to look familiar. It also indicates that the band has no intent of letting the first set be the only improv showcase – its inevitable coda of Bee Jam is almost unrivaled for exploratory Spaffisms, and this one's no exception. A hard rock peak and a Police-esque phrase by Brian open the jam. There's some brief problems with the sound, but it gives us a chance to see this band's tight knit teamwork as the sound guy identifies and replaces a faulty mic on the kit without interrupting the quartet's flow.
Red moves to his synth, with the rest of the band growing more percussive and effect-laden. Once Cameron uncages the beat, there's a few minutes of intriguing, um, plinktronica?, with a seamless and impressive key shift from contemplative to brooding. Brian takes the lead and things take on that dysphonic, evil, jazzy tone again. When I know I'm reviewing, I try to take good notes on my phone during the jams, adjectives and thoughts and questions to look into later – but here I just wrote the horns emoji several times. 🤘🤘🤘 This is the prize of the show and perhaps one of the best jams I've heard this band play.
Cameron's synchronicity with Brian's moody phrasing is impeccable, but it's the chord progression Red locks on to that really glues this stunning passage together. Put In the Eyes of Thieves, a Rossini concerto, and a tornado full of amplifiers in a blender and you'll probably get something like this jam.
The band is wise to shift gears and leave the rancorous Stygian jamming behind, and a tasteful island groove is just the ticket. Jordan brings a bounciness to his phrasing that, coupled with Brian's effects, dissipates any remainder of the previous jam's tension. For a moment it sounds like we might get a Salamander Song, but Jordan and Cam take the reins and the jam changes directions to a funky rhythm.
The shift to My Road (My Road) is one of those segues that simultaneously comes out of nowhere, but feels totally obvious. We're treated to an ambient jam of the type MRMR is well-regarded for. The subtlety and intricacy of the evening so far – "hard" music, you might say – is then abandoned in favor of a celebratory headbanging style, what the kids call a rager.
Encore:
This band does a great job with their covers – taking exploratory, artistic liberty with some, and paying dutiful penance with others. Soul to Squeeze is surely in the former camp, as they turn it into a sort of barefoot-dancin'-lake-fishin'-summer tune. There's a casual brashness to this band, and its exemplified by the way they Jordan sings that breakdown at double speed, while playing the hell out of the bass – as if to say, "If the previous 2 hours weren't enough, yeah, we can do that too."
This is truly a special show, full of great moments. The intimacy of the venue, friendly vibe in the crowd, and my personal musical preferences all make it unforgettable as an experience for me. But if you're looking for a highlight, it's in the middle of Bee Jam. If you only have 5 minutes to live, hug your loved ones, then put your headphones on and start the Nugs recording around 14:00.
Setlist, Attendance, and Recordings for: 2018-10-11 - The Royale - Boston, MA
A Thursday evening adventure to Beantown for my favorite band in the land: SPAFFORD. I was particularly excited because this was the first concert I had been able to attend since May, due to Phish's festival Curveball having been cancelled back in August. I was also giddy with anticipation as it was the first time I would be taping a national touring act...but more on that later.
Concerts in the greater Boston area are almost a family reunion of sorts and this evening would be no exception. I had plans to rendezvous with @Lauer-Nation when I arrived at the venue. I had also made arrangements to link up with Ted Gakidis, an experienced taper who was planning to tape as well. No trip to Boston would be complete without checking in with Team Sparkle, who made it out that evening with almost the entire roster (sorry you couldn't make it @soniabegonia ) The biggest surprise of the evening was seeing my two favorite Maineacs, Ryan Cierrello and Josh Herrick! Those gentlemen put in a down-and-back mission from the South Portland area and get the nod for doing what it takes on a Thursday night.
After making a soggy drive in the rain from NH, I parked in the garage right across the street from the venue and met up with Uncle Ron in front of the Royale. Security was friendly, un-intrusive, and quickly had us on our way up the steps and into the belly of the club. I had heard mixed reviews about the Royale but I must say that it was a great venue, and as I was soon to discover, has an incredible sound system! Uncle Ron made plans to find a spot in front of Cam with his buddies and I quickly found Ted with his rig already set up near the soundboard. I may have used the phrase "biggest surprise of the evening" a little too soon, as Ted introduced me to another taper who turned out to be: The Zman! Now, I know to some of you that probably doesn't register or seem relevant, but to a guy who practically grew up listening to and trading cassette tapes of live music...this was the equivalent of meeting a living legend! Ted was beyond gracious and offered to let me clamp my meager beginner's rig onto his stand and run with him and Zman. I was so nervous and unprepared that I declined at first but was encouraged and assured that I was no bother. After a few minutes getting myself set up, I was ready to enjoy the show!
The band opened with a beautiful rendition of Eternity. All My Friends filled the two slot and my anticipation meter spiked as I greedily awaited the swarming Bee Jam that followed. It was early, but the cohesiveness of the rhythm section was already on display. Jordan and Cam were locked in and together felt like a collective boot in the chest. I mentioned the Royale's superior soundsystem earlier, and new sound engineer Chris Erickson wasted no time putting it through the paces. Also of note, Jordan's bass rig for this tour is an absolute beast that tastefully finds the balance between thunderous and absolute low-end clarity.
A funky little bounce through Memphis in the Meantime and we were treated to the second jam of the evening, My Road(My Road) Always a favorite jam vehicle of mine, I was all smiles as Red worked his magic on his new board (@StankyMuffin help me out) emitting an array of otherwordly sounds and bending minds throughout the crowd. Brian also gave us a taste of his updated pedalboard and I was enamored with a particularly crunchy, dirty tone he was using.
To bookend the set, the band finished it off with another pretty ballad in the form of Diana.
There would be no foreplay or sweet nothings whispered as the band came out for second set charging with America. I can think of no better place than the city that launched the American Revolution to drop a ferocious "heart of America." It may not have had the goods to unseat "Philly or Asheville America" from their throne, but it was a high-energy take that set the tone for what was about to be a monster frame of music. Mind's Unchained did just that...unlock the doors and explore territory that eased the pain for close to 15 minutes. I had heard the Chicago version the band took for a similar ride on 10/6 and can say that I'm beyond stoked that Mind's is getting the treatment this tour.
Lonely. What can I say about this Lonely? Nothing that will do it justice. Please listen to this. Share it with your friends. I was in complete awe the entire way through and my recommendation is to carve out twenty minutes of time, put on some headphones, and truly drink in one of my favorite jams I have ever experienced live. It is that good. To close the set, Green Day's Longview was busted out after its second longest hiatus. Having only been played 7 times, it hadn't been seen since Boise back in March. The crowd chimed in, respectfully, on vocals and were treated to a particularly ambient, feel-good jam to pull the curtain on the second set.
After a quick break, the band came back out and Brian took a minute to acknowledge Cam and garner a round of applause for the young powerhouse that had been beating the tubs all night like they owed him rent money. Again, showing they know their fanbase like no other, Spafford dropped it on the One and treated Boston to a Reprise encore that left the floor with a few new weak spots.
I had noticed during the beginning of Mind's that I had committed a rookie error by forgetting to clear my SD card prior to the show and that I had run out of available space to continue recording. What did capture will never see the light of day, but I was comforted by the fact that it was captured in it's entirety by both Ted and Zman. Thank you for taping gentlemen and for being so kind to an enthusiastic bonehead like me.
An incredible evening, laced with Leviathan jams and my new favorite Spafford performance that I have attended.