Setlist, Attendance, and Recordings for: 2018-12-31 - The Van Buren - Phoenix, AZ
2018…what a year for our favorite band, Spafford!!! If there's one major takeaway, it's that this band grew leaps and bounds and is primed for major growth moving forward. With their growing songwriting creativity, a laser-focused, kick-ass crew running on all cylinders, and new management at their side, there's nothing the band can't accomplish.
Personally, I had the tremendous privilege of seeing 23 shows this year, spanning every tour, and 31 overall since 2017. I feel so fortunate for not only the music I've seen, but the shared passion that I've seen Nerds across America (documentary title, maybe??) bring to every Spafford show and, more importantly, to each other. This year, we supported each other in ways that, to some, might defy expectation. We raised money for sick nerds; we honored those whose families have suffered great tragedy, and we celebrated those that have reached new heights in their careers and lives. We've lifted those that were down and gifted those who have sought. We justified our Nugs subscriptions and our 14 hour drives and our seemingly endless hours. We left our families behind to feed our souls and, perhaps most importantly, our jones for Jon Rose prints. And hopefully, you brought something back for the kids…and no, a slap doesn't count!
And after all that…NYE…where surprises abound and resolutions are made through a foggy haze of "party favors" and alcohol with bubbles. There is something about a NYE concert experience that defies explanation. For some, it is a turning of the page, an escape from the year's trial and tribulations. For others, it is a celebration of the year's milestones and accomplishments. Having set the precedent years before, bands like the Grateful Dead and, more recently, Phish, made certain the affair was (and is) replete with elevated displays of splendor and pageantry. So it's no surprise that as rabid jam-band fanbases around the country settled in for their own calendar-turning dance parties, there would be surely be something special in the air at the Van Buren on this glorious Monday night.
Not that it didn't have its challenges. After a few days of an unusually cold freeze that swept through the city, the sun managed to make it more than tolerable, but the low temperatures combined with rain this Monday afternoon cast a pall over the city. You wouldn't know it from the Spafford faithful, however, as those in attendance the evening before were treated to an incredible night of bust-outs, new songs, and a sandwich that would make any weasel living in the Palisades extremely proud. (See what I did there? Shhh...I know…I know…)
I was especially nervous this day. My girlfriend, Shirley, was coming to town only for the NYE show and I had just spent the last two nights at The Rodeway Inn, the armpit of Van Buren Street. Shaking off the fleas, I pulled a Jeffersons and moved on up…to the (cough) luxurious 6-month old Hampton Inn, where I now felt like a provider and less like a crack addict and I was ready to roll, adult-style!
We entered the venue around 8:30. The excitement was palpable, as the Nerds swarmed the lobby buzzing about what was the night before and what would be the night to come.
The boys kicked off the historic evening with Stuck in the Middle With You…what a way to open the show for the hometown Nerds who have been hearing the band play the Stealers Wheel classic since 2012…but only 19 times since and twice in the last 12 shows (for those playing the home version of Spaffbase, brought to you by Spaffnerds.com). So although this is considered an anthem of sorts in Nerd-lore, it seems like it might be finally finding its way into the regular rotation, a welcome addition, I'm sure, to those who wondered what ever happened to it.
After Brian kicks off the vocals with his typical non-Gerry Rafferty-esque bite, Red takes the first solo, cascading the keys over Cam's drum fills as Brian and Jordan lurk underneath, waiting to explode. Right at the 4 minute mark, Brian takes the reigns for a brief moment before the boys settle in for what will be a major blastoff, Spafford style. By the time the band begins to crescendo, Cam leading the way, Jordan and Brian lead the band into what I like to call Spafford's signature "song within a song," where the jam takes on its own uniquely lyrical melody, proving once again how much this anthemic powerhouse of yesteryear deserves regular play going forward. What makes this so special is the "Stuck at Van Buren with You" lyric they ride through most of the end while weaving back in the original title lyric to close it out. We Nerds certainly didn't feel stuck, but if we were, I'm sure all of us would happily be bound and gagged and held hostage for hours…provided, of course, the band was still playing…cuz otherwise, holding several people hostage is a felony and surefire career killer. Stuck finishes and Brian welcomes us with "What's up Phoenix? It's good to see you again." Aaaaaaand we're off!
Next up…When It Falls, a song which debuted live in studio on April 5th, 2018 (which just happens to be…anyone? Anyone? The anniversary of my Bar Mitzvah in 1986...put it on your calendar now, there WILL be a quiz later!) and which, like all of their new tunes, has seen tremendous growth since its inception. I have now seen 4 of the 9 played and it gets better and better every time. I almost forget everything that is happening in this rare "under 5 (minutes)", from Cam and Jordan leading the syncopated breaks to Brian's thunderous intermittent growls and everything in between.
Minds Unchained. Simply, this song never disappoints. One of the ways Spafford hooked me is through their hooks and this one is no exception. There is always a tasty treat waiting for us when Brian slides up the neck to the final refrain and tonight was tasty indeed. As I've now seen 10 Minds live and listened to another 30, this may not have been their most exploratory (the Karl Denson appearance notwithstanding), but it certainly hit the spot, with Brian twirling a magic axe full of arpeggios before sliding up the neck and bringing it all back home to a huge crowd-pleasing exhale. Mmmm…yummy.
And now for something…somewhat different. Listening to the opening chords, one might have thought…hell, I don't know what anyone was thinking, but we would soon enough find out that Leave the Light On was being played in the key of E instead of the typical key of B, forcing Jordan's vocals to plummet to the lower depths of his vocal register. The haunting sound emanating from Jordan pervaded the entire song and it might have even tripped him up for a moment, as he flubbed some lyrics in the second verse before having a chuckle with the crowd and then confidently regaining his composure with "But I keep you candle burning in the window." That's all we can ask for, Jordan…oh and that amazing bass solo that immediately followed to kick off the first jam. As Brian turns it up a notch or 3, everyone joins in on this expansively rich, tight jam, until Jordan re-enters with vocals to lay the foundation for the distinctly different second jam, which had the showed the boys once again strutting their stuff while stretching out in ways that made the LTLO unique different. Hey, it's NYE, right??
I remember hearing the first Broken Wing at 420 Sweetwater Fest for my birthday weekend and while I wasn't immediately taken with how the lyrics meshed with the rhythm of the song, I was certainly taken with the melodic structure of the song and how hard the boys jam it! After I saw the Red Rocks show, I was hooked. This is yet another new song from 2018 that has made all the right moves in its development and allowed the band, particularly Cam, to really stretch out and flex their chops. Clocking in at around 11 minutes, it's a song that brings sheer delight to the crowd as Cam brought it a to a thunderous conclusion. It's no wonder Brian likes to say after almost every version of it, "Lades and gentlemen, Mr. Cameron LaForest on the drums" to the roar of cheering fans.
Aaaaand it's crowd control time at he The Van Buren as Red leads us into yet another rousing version of Salamander Song. With Salamander, you always know what you're getting…until last summer, when the song took a somewhat slight turn, much to the delight of most and, frankly, the disappointment of some. The song typically features a rip-roaring solo by Brian that begins with his inimitable picking style and builds to a tremendous crescendo before the entire band whips the crowd into a frenzy with "I'm dancing the the whole way hoooooome," but on a hot summer night in early July, at the High Sierra Festival, Jordan took the solo on what would have typically been Brian's. This was a mere days after a fellow Nerd casually told me that the band had recently been taking jazz lessons. Hmmm….well, the jazz influence is apparent, as Jordan has taken his solo to new heights every time out of the gate and it has only gotten better and better. The song ended with the typical "Hey's" in the correct place for a much larger percentage of the crowd than at most shows, but I'm sure to some it still needs work.
Just when we thought the set might be ending…what's this? Cam, Jordan and Red playing the opening chords of…wait…is it that Don Henley song? Why, yes it is…it's Dirty Laundry! Now I have to admit, this is not a song to which I would typically stay tuned when it came on the radio when I was a kid, but as is always the case with Spafford, they make a fan out of me every time they play a song about which I was previously ambivalent! After Red does his best Henley impression, Brian takes a nifty solo to kick off the jammin'. The entire band joins in on the vocals before the boys modulate up a half step to finish off a tasty surprise for the faithful. The music drops out as we hear the boys, a cappella, sing:
"Kick 'em when they're up, kick 'em when they're down
Kick 'em when they're stiff, kick 'em all around."
End of set 1.
Looking back on it now, in this writer's opinion, there was really no better choice to kick off the second set than America. Not that this crossed the band's minds at all when they decided on the setlist, but the fact that our nation seems to be losing a lot somewhere across the fall, it was a fitting way to begin the end of 2018. And no sooner had they settled in for an expectedly extended jam when the boys had another surprise up their sleeves, this one in the form of perhaps the most American of rock bands, the good old Grateful Dead. I don't think I've heard a 4 piece band tackle the Dead's The Other One with such precision. Brian's vocals were the perfect fit for Weir and Kreutzman's cutting lyrics, Red's keyboards evoked Tom Constanten's haunting sound from the late 60's, and Cam made sure nobody even thought for a second that a second percussionist was necessary to fill out the rhythm. 15 minutes is usually considered a long song, but not in Spafford time, 15 minutes was barely enough time for this spaceship to take off!
But wait…what's this now?? Could it be that he spaceship is encountering…Aliens along the way?!?!?!? Why yes, I believe it could…well, either that or some perv Nerd brought their blow-up dolls to the show…unlike the hostage-taking, NOT a felony, but really kinda gross. With the band bringing some out-of-this-world vocal jamming, reminiscent of Phish's vocal explorations (its okay, breathe, not a comparison, just a reference point), two green plastic blow-up aliens were tossed around the venue while the band kept the spacey undertones as the countdown to midnight began. Midnight struck and the boys burst into, of course, Auld Lang Syne, while each of their significant others walked onstage for a brief New Year's kiss before the band wrapped up. I didn't even notice the appearance by the ladies, as I was sharing may first New year's kiss with my Shirley. And yes, it was spectacular! :-)
Right out of Auld Lang Syne, Brian brings us back to America with the familiarly lyrical A minor arpeggio rising like a Phoenix from the ashes and marking the beginning of the end of this meandering exploration. Just as the song ends, we hear the familiar rhythmic beat of The Reprise, a fitting bookend and the funky compositional foil to America. But what typically turns into the slow, funky calm before the storm took an unexpected turn here and the band stopped and Brian played the opening riff of…Blister in the Sun! Are we really going THERE now?!?!? Welllll...not quite…after the opening guitar riff and the iconic double taps on the kit, Cam and the boys take us right back to The Reprise…nice fakeout, gents...for now, at least!!!!
The Reprise had seen better days by the time Fall Tour 2017 rolled around. During Cam's early days with the band, what had traditionally been a lengthy buildup to its classic "melody" half way through the song felt a bit like Brian was trying to get to the finish line sooner than later…with a few exceptions, of course (see: 11/10/17 Fort Collins!!) But as 2018 went on, the boys seemed to relish once again in the patient methodical approach to what makes this jam well worth the wait. Reaching its climax, the crowd whipped into a frenzy, the set closer burned like a wildfire in Northern California before the tempo slowed, we all took a breath and the band brought it to its final resting place.
End of Set 2.
Waiting to hear what the boys will play for an encore is always one of the most anticipated moments of any show, especially on NYE. Spafford may not have yet ventured headfirst into the aforementioned splendor and pageantry of other more well-known jam bands, but they had already proven that they had plenty of tricks up their sleeve, made even more obvious from the opening chords of Blister in the Sun. Blister is a crowd pleaser at just about any party from the time you were, like, 13...at my Bar Mitzvah (yes, that's right, on April 5th, 1986, good memory, fellow Nerd, you passed!). Let's face it, if this song doesn't get you at least a little pumped, you probably lack a pulse (also may affect sex drive, which is even worse that not having a pulse). When you get a bunch of Nerds in a room on NYE and the boys bust it out for the first time EVER, it's something special. A rousing rendition of The Violent Femmes classic gave way to what has become a Spafford classic, Slip and Squander. After two nights of channeling Gregg Allman and Don Henley on Whipping Post and Dirty Laundry, respectively, it was time for a return to the sweeter side of Red, as the gently tread vocal verses gave way to temporary overdrive before settling in for a classic build on the shoulders of Dr. LaserFinger himself, the honorable Professor Moss.

Photo courtesy of Carson Church Media
One might've thought a two-song encore was just enough to satisfy the Nerd faithful, but when those opening chords of All In ring out from Jordan's bass, you are guaranteed at least 15 more minutes of multi-genre, mind-bending jamorama! And what a rendition it was! All In got a LOTTA play over the festy summer tour and suffered from, according to some, at least, maybe a wee bit of overkill as it was assumed the tune is seen as a good cross-section of both their songwriting but also their multi-dimensional jamming prowess and thus a great way to draw in new fans in a limited time frame at festivals. But this Nerd never gets enough of it, as it is truly one of the great jam band anthems of all time. The crowd was certainly all in it for the ride…and holding on ever so tightly…because the "might as well drive" line, so beloved by Nerds everywhere, rang ever so true for the many who had driven from all over the country to see this spectacle of spectacles. Brian was in full force here (is he ever NOT?) as The Raven seemed to pull him towards the front of the stage for the song's final movement, a tour de force of nastiness unmatched in the band's entire repertoire. Red takes a nice solo here, accompanied by a powerful build with Cam before Brian begins his methodical climb to immortality. This song is living proof why you shouldn't talk at a Spafford show. It's not because it's rude or because it's annoying to those who "pay good money not to hear you talk," as we have all seen on the boards. No…it's because if you talk during what you think are the quiet moments (when conventional wisdom says that not much is going on), you will miss some of the most unique, precision picking you'll ever hear waxing lyrical from a guitar. You will miss the seeds of a mind-bending extravaganza, with each member of the quartet adding layers upon layers of what grows into a monster climax, Brian fanning, Cam pounding, Jordan bomb-dropping and Red sustaining until they bring it all back to the final movement's theme. WOW!!!
And…AAAAAAND…if that wasn't enough, let's do one more, shall we?
I used to think that The Traveling Wilbury's End of the Line was an okay tune, nothing special. But, true to form, I will never listen to this song the same way again. When the boys started using it as their outro music, I used to joke on the boards that it was my least favorite song because it meant the Spafford show was over…and ya know, THAT kinda sucks, right? So how fitting that as the year closes out, we get to hear the boys perform their traditional outro song live for the very first time! Everyone got in on the fun here, with Brian and Red taking lead vocals and Cam lending his oft underutilized - and underrated! - vocals to the harmony. A light-hearted bonus romp left a nice tasty treat on our tongues as we cheered the boys for what will go down as an historic two-night reign on their home turf.
Well…that's a wrap for 2018, folks. I know the anticipation is already super high for what it is to come in 2019 and beyond. The sky is the limit, so raise your Brooklyn/Denver VIP cups and toast to the wild ride that is…SPAFFORD!!!
Setlist, Attendance, and Recordings for: 2018-12-30 - The Van Buren - Phoenix, AZ
My review for Night One of the two-night New Year run at The Van Buren is a story about a Florida Nerd, his Florida Nerd crew, and our experience in Phoenix. Here are some things I knew going into the first show of the 2018 New Year's run.
One, I love this band. Two, I am going to see my favorite band in their hometown. Three, I would be meeting some of my fellow Florida Nerds in Phoenix. We Florida Nerds, myself, Josh, Billy, Nia, and Vanessa dubbed ourselves The Florida Contingency. What I did not know was how would the Nerd Herd react to and welcome my Florida crew? The answer to my question was answered immediately upon arriving at The Hyatt in downtown Phoenix. I got out of my Uber and immediately saw the faces of happy and welcoming Nerds. This was the running theme for my experience over the course of the next two days. The exuberance and warmth shown by all of the OG nerds towards myself and my crew was overwhelming.
Upon arriving at The Van Buren you could feel the excitement. Everyone waiting in the unexpected cold of the Phoenix air knew we were in for a treat. The night's theme was A Beautiful Day, and many participated in the theme by wearing bright colors. While waiting I had the pleasure of meeting Jon Rose. Jon and I were familiar with one another from the Spafford Prints Facebook group. The gratitude Jon showed us for being there was amazing. Jon took time from his busy pre-show routine to talk to us and I will never forget this. This is a review of night one but I must mention something Jon did on night two. Before the night two show started he came down to the rail to thank The Florida Contingency for being there. He told us the story of his beginning with the band, the white light moment, the exact moment he had his vision as an artist and his place within the Spafford family, years ago while hearing Windmill. Mr. Rose I will never forget this story, it reminded me of an experience of my own.
Of course traveling from Florida my crew had to have the VIP package. For myself and the people I traveled with I feel that it was worth the small amount of extra money. The tacos were delicious- I mean, anytime you are offered cilantro for your taco you know you are dealing with authenticity. Once we had our fill of Tacos we were allowed inside for the sound check.
The Florida Contingency went separate ways upon entering. Josh and I got in the merchandise line to score the on-point print from Mr. Jon Rose. I love this print. The Zodiac signs and colors are perfect. Jon Rose has continuously brought the heat with each new print. Nia, Billy, and Vanessa secured our spot on the rail, right in front of Red. It was a spot we would cherish for both shows. From the first notes of sound check all the way to the last notes of sound check the crowd bustled with a massive amount kind energy. It was an energy that I honestly rarely feel at shows in Florida and I loved it.
Finally, the band came out onto the stage. There was an instrument swap going down. When the dust settled and the night's first song, Jailhouse, began Red and Cam landed at their respective homes, Brian had bass duties, and Jordan played guitar. At least ,this is how I remember it shaking out. This was the night's first bust out. I have seen it discussed online how a Sublime cover would suit this band and these discussions were on point. Jordan had lyric duty and he nailed it. The "had to be there" refrain was fitting for The Florida Contingency. We all made a choice of where to celebrate New Year's and we chose Phoenix. We were exactly where we were meant to be.
The night's second offering was Windmill. This song is a favorite of mine. The crowd was ebbing and flowing. Kindness was everywhere and when I looked around I could feel the energy of a thousand smiling faces lifting me to move. I believe music is something we all feel. That is why I go to shows. I want to feel emotions that only music can bring out of me. On this night this first happened during Windmill. When the chills kick in and my tear ducts welled up I knew I was home. As the song goes I was accepting the mood of the new grooves. I was thinking and dreaming again but I was far beyond fine. After the song Brian stated "That's all I've got for now." HaHa, lies.
Next up was Backdoor Funk. More crowd undulating and for me it was the first time of the night I really heard Red on keys. Red's got soul and I will leave it at that. I love the way the song's funky beats build. Of course the crowd loved it. It was during Backdoor Funk that I again realized how special the crowd was. Everybody was intently sharing space, chomping was low, and The Florida Contingency was making new friends. We met Dan, Lisa, Ray, more nerds than I can name, all amazingly generous and kind. It was during the face melting climax of Backdoor Funk that I earned my first Killing It slap. I had arrived.
The common binding between People like me and you on this night was our love of this band and their music. The crowd was acting like a singular tribe at this point of the show and it was love holding us together. As usual Red crushed vocal duties but none of us knew what was yet to come from Red on this night.
Eternity, damn right all my roads led me right here. I did not recognize the faces in the crowd but they kindly let me in. The music was coming straight from the heavens and we all belonged. I truly believe that the kindness of the herd will grow to legendary levels, we will be heard, and we will create the change Jordan sings about in Eternity.
I alluded to vocal greatness from Red in my blurb on People. With the night's second bust out we got it. We got to witness the amazing ability Red has vocally. (Not that we didn't already know, but reminders are fun.) Whipping Post closed out set one and I really have no words. This song was simply brilliant. They crushed it and I believe this song was a highlight for many in attendance. I would not be disappointed in the least for this song to make regular appearance.
For me, set break is special. Five years ago I was hopelessly lost in addiction. The only reason I went to shows was to ingest whatever was put in front of me. Now when I go to a show it is to embrace my spirituality and the creation of the All My Friends group has added something special to Spafford shows. At set break I went to the All My Friends table and was blessed to find a dozen sober nerds laughing, shaking hands, and killing it sober. It was another special reminder of the hospitality I was continuously shown by everyone in Phoenix. Being able to go to a meeting like this at set break is incredible. I hope to see this group continue to spread the word and grow. I assure you it is possible to kill it in sobriety.
All My Friends – Set two began with All My Friends and I feel I need each and every nerd in the room. I've come to believe that you nerds are my chosen tribe and we have all our days ahead. Musically this song was a perfect set up for what was to come. All our days were most certainly ahead.
I've got to lump the next group of songs played into one. Bee Jam > Weasel > Palisades > Weasel…… Earlier in the night Dan had told me the story of how the Bee on stage was born. Dan mentioned we were approaching the Bee's one year anniversary on New Year's. It was a great story and telling it was another example of the love shown to the Florida Contingency by the OG nerds. I love the dance vibe Spafford emitted throughout the entire show but the beats of Bee Jam get me. If you are not moving you must be dead. Jordan's bass is mesmerizing, Red's keys get into my head, Cam is a beast, then Brian goes full guitar face right into Weasel. More beats I can only describe as electro-disco followed. I will not have a difficult time remembering this Weasel. The crowd was getting down. I do not think there was a person in the room not moved to dance. It was special for me to witness. Personally, I focused on Jordan's bass. Admittedly, this was only my fifth show but I had never seen Jordan so into it as on this night. I heard he was using a new four string bass, but I am certain he was feeding off of the crowd as he furiously threw down his juicy bass lines right into the gentle sounds of Palisades. I wrote earlier about the feelings I get during the music. Palisades is all feelings for me. I get so emotional during this song. It is difficult for me to explain but I think about where I have been and where I am going. My entire life plays out in my head during this song and right at about the time my head might explode the music goes right back into Weasel. More electro funk dance beats. I loved it and so did everyone in the room.
Next up was Plans. There was a feeling in the air that all of our plans led us to the exact spot in time where we all came together as a bunch of nerds. Nobody in the room made a mistake or lost their way on this night. We came together for our love of all things Spafford. We made new friends and shared our stories. We came together for a special night and it was beautiful.
The encore's first song started with another bust out. Jordan stated he started writing some words down about being on tour and away from home, shared them, and was encouraged to finish his thoughts, thus the birth of Home (One Place I'll Never Be). This is a cool country song that obviously holds special meaning for Jordan as I could again tell he was enjoying himself. Of course, I love the Florida reference in the song.
As previously mentioned the night's theme was a Beautiful Day. The set list showed that originally Galisteo Way was to be played here but it was here where the only setlist deviation occurred. The boys opted to insert Beautiful Day here and it was indeed beautiful. What a show and what a great start to the NYE run. I want thank everyone I met in Phoenix for an amazing two days. I hope to see many of you in Florida in February.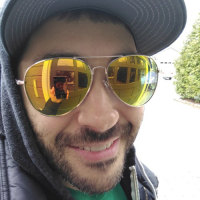 Nerds! What an amazing pair of shows in Phoenix to ring in the New Year. Even the jaw on the statue of Martin Van Buren hit the floor. These are not to be missed
Thanks to our wonderful taper community we have some AUDs available already so you can tap into the love while we all patiently await the official Nugs release. If you don't have Nugs, and you spent all your money buying the nerd next to you drinks on New Year's Eve, fret not! We're going to do a giveaway of (2), twelve month subscriptions to Nugs.net.
All you have to do is reply to this post and tell a little story about your new years eve experience. It doesn't have to be Spafford related, and it doesn't have to be brief, or extended. Just throw a thought or two about your New Year here so that we can all live vicariously through you.
You're also welcome to like our facebook page or follow our twitter account, and even subscribe to our youtube channel. But who am I kidding, you're already connected to all of those things, right?
Anyway, we've done this before. Let's say we'll end the entries on Sunday, 1/6/2019 at 12:00 PM Mountain time. That's 2 PM Eastern for all of you playing along at home. I'll do a facebook live video for the drawing and two of you guys will end up with a year of nugs for free.
Bay Area, Day 2: In the Heart of America
The Great American Hall is a storied venue. Its most well-known regular might be Jerry himself, having performed here under his own name, with JGB, and for the Grateful Dead's first From the Vault recording. Many other legends have recorded here, though – Doc and Merle Watson, Boz Scaggs, Robin Williams, to name a few. Immediately upon entering, you can see why: the walls and ceiling are ornately hand-carved, amenities are well-located and convenient, and the whole building has an air of professionalism.
With a capacity of about five times the Catalyst Atrium, I knew this wouldn't be as personal an affair as the previous night. But that was more than made up for by the larger room's benefits: the full light rig is on display here, complete with LEDs, and from the first note the sound was robust, crisp and sublime. We decided to maximize these factors by hanging around the back center of the room.
And what better first note for the American Music Hall than that of America? This song is unpretentious, heavy and propulsive, and often (though not always) foreshadows a Reprise. What's not to like? The crowd gets moving. Mind's Unchained is next on the list. It's well-played, a cartwheeling court jester next after the opener's unapologetic intensity; as instructed, we soak it in and ease the pain. This song's guitar part sounds inspired by the Dead to me, surely a crowd pleaser in this venue and with the night's Killing It sticker theme being a double Jerry.
Leave the Light On gets the next call, the female fan favorite song if you judge by woo-ing gender. LTLO's lighthearted lyrical vibe isn't everyone's cup of tea, and while the uninitiated might accuse it of being white-guy-reggae, folks who know buckle their seatbelts. The first jam sounds a bit like a Windmill jam, with Brian finding a nice upward phrase and working it for a while. By the time we get to the bit Red always works in to the second jam – I'm gonna go ahead and coin that Red's Theme – the band has already struck a furious pace. While this version doesn't go too far afield musically, the lights were spectacular in this jam. The LEDs gave the room a sinister vibe in the beginning of the jam and the whole rig was used to great effect up through the peak.
This version of People gets the Red solo treatment, with the band hanging around just a little more than usual. The rising chords in the peak always give me goosebumps, and with that we're sent off to set break. We rest our legs a bit and get a fresh drink – though there's no rush, since the bar line is never long in this place. I have time for a brief conversation with a stranger where we're not sure if the words of America go "I lost it somewhere across the fall" or "somewhere across the fault", which would fit given that this venue was built immediately after the 1907 earthquake. We settle in near the front, Cam-side.
Virtual Bean Dip has been my opener call many times, for some reason. Spafford loves contrasting ideas in their songs, and VBD juxtaposes syncopated, malevolent metal with calm noodly jazz. In this case we don't get my favorite part, the wild drum segment at the end, but that's fine because its foregone in favor of a sprawling 28 minute jam. The band is on their own time here, patiently working together to cover a lot of ground. They finds a nice percussive salsa groove, and the crowd is moving and shaking, but several times they opt out of a forced peak in favor of shining a light on the next musical nook or cranny.
The segue into Salamander Song is smooth and superb, and suddenly I know why I recognized the salsa groove from the previous jam. Who doesn't love dancing in circles and Hey!-ing, especially after the headbanging opener? VBD > Salamander has happened before, on 8/18/18 and 1/25/18 to be exact, and it makes a great combo. Spafford loves to go deep, as they did the night before at the Atrium. But some nights it's the breadth of what they can play that leaves an impression.
The so-called fourth quarter is kicked off with Plans. I'm alright with having seen this song a ton since its debut, maybe because the band plays the hell out of it. This one belongs to Jordan. He finds a refrain he likes early in the jam and sticks to it stubbornly. He and Brian have played together a long time, and it's clear in this jam, as he provides the perfect underpinning for Brian's explorations. Cam backs off to an ambient space, letting us breathe the music in deep.
My dad had mused that in 3 days we were sure to get a Postman, and he was right. This one goes fairly deep, with some great interplay with a descending riff, and a patient build to the song's triumphant conclusion. It's a great way to close a solid set.
Catfish John is a frequent earworm for me, and it's a fitting choice to close out the show here given that it was popularized by the Dead. It's clear that the band put some extra thought into their set list on this night. The lights, venue, and crowd were all great, and that helped magnify the experience. LTLO and Plans were my personal highlights. Perhaps just due to the stupefying musicianship I had just witnessed the night before, I couldn't help but think that the band was holding back a bit. But the run wasn't over yet, and there was no reason for them not to leave it all on the table the following night.
Setlist, Attendance, and Recordings for: 2018-11-15 - The Catalyst Atrium - Santa Cruz, CA
Bay Area, Day 1: We got all our days ahead
This show marked an interesting date for me, being exactly a year after the first Spafford show my father and I attended together, at the Doug Fir. We'd set the plan to do this run of Bay Area shows several months ago when Fall Tour was announced, and had been bouncing texts back and forth in building, eager anticipation since. Upon landing at SFO, the apocalyptic mood set by the catastrophic Camp Fire had us both feeling a bit anxious.
But downtown Santa Cruz got us feeling right. It's a pleasant place if you don't mind the occasional stereotypical drum circle, and the vibe heading into the venue was laid back. Upon entry we did have to double check to make sure we were indeed seeing Spafford, and not "Spiderfly" as they were billed by the bouncer – but yes, this was the place.
After festival season, with its predictably high-energy but compact sets, busy tour schedules usually sees bands physically tired but well-practiced and firing on all cylinders. I wasn't sure what to expect, but I knew with three shows we were likely to get many of the songs we both wanted. (My hopeful list for the run: Todd's Tots, Aeroplane, My Road, Broken Wing, and something Tom Petty.) And since the band makes a habit of doing an extremely improv-heavy show near the beginnings and ends of each tour (see 3/5/18, 3/15/18, 10/9/18, 10/19/17, etc.) I figured we had a good chance of a long expedition into uncharted terrain.
It turned out, we wouldn't need to wait long for that trip. While there was no "named jam", the Atrium show was a jam monster, with the average song length clocking in somewhere in the upper 20 minute range. Starting things off was It's A Bunch. Since I witnessed its perfunctory, 4-minute debut two years ago, this song has turned into one of the band's favored launchpads. Summer Camp and the 10/1/17 Parody sandwich are two of my favorites. The anthemic rock portion of this song has a driving optimism to it that always makes me grin, and when it opens a show it feels like the like music that might be played over a montage of a space shuttle being trucked over to the launch pad.
Things immediately got funky and soupy before turning dysphonic, foreshadowing what would be somewhat of a theme for the evening. It took the band a while to get into the groove here – perhaps shaking off a long tour, or settling into the comfort of the tiny venue. A long jazzy segment with some strange effects from Jordan eventually dissolved into a long thoughtful ambience. From here they built things back up in an interesting key, with shades of Stash contributing color and depth to a healthy peak.
The jam afterwards was so unmistakably Backdoor Funk that one could have forgiven the band if they forgot to sing the song proper. But they found their way to the Kafkaesque lyrics, and the song itself strayed far and wide. Red employing his delay pedal with piano over a mellow late-night groove from the rest of the crew was one of my favorite jams of the show, featuring beautiful and unmistakably Spaffy playing from the entire band. A Red-Brian call-and-response jam brought the song to its conclusion, and then, after an hour spent seemingly hypnotized, it was set break.
I was reminded at this moment of why I seek out these smaller shows: the laborious 10 foot journey to the bar, the ready and nonchalant bar staff, the elephant head on the wall and rowboat hanging from the ceiling, the adorably casual hippie vibe of downtown Santa Cruz just outside. And the strength-to-cost ratio of the gin and tonics didn't hurt, either.
All My Friends is a killer way to open a set, especially when there's only about a hundred faces in the room and many are starting to look familiar. It also indicates that the band has no intent of letting the first set be the only improv showcase – its inevitable coda of Bee Jam is almost unrivaled for exploratory Spaffisms, and this one's no exception. A hard rock peak and a Police-esque phrase by Brian open the jam. There's some brief problems with the sound, but it gives us a chance to see this band's tight knit teamwork as the sound guy identifies and replaces a faulty mic on the kit without interrupting the quartet's flow.
Red moves to his synth, with the rest of the band growing more percussive and effect-laden. Once Cameron uncages the beat, there's a few minutes of intriguing, um, plinktronica?, with a seamless and impressive key shift from contemplative to brooding. Brian takes the lead and things take on that dysphonic, evil, jazzy tone again. When I know I'm reviewing, I try to take good notes on my phone during the jams, adjectives and thoughts and questions to look into later – but here I just wrote the horns emoji several times. 🤘🤘🤘 This is the prize of the show and perhaps one of the best jams I've heard this band play.
Cameron's synchronicity with Brian's moody phrasing is impeccable, but it's the chord progression Red locks on to that really glues this stunning passage together. Put In the Eyes of Thieves, a Rossini concerto, and a tornado full of amplifiers in a blender and you'll probably get something like this jam.
The band is wise to shift gears and leave the rancorous Stygian jamming behind, and a tasteful island groove is just the ticket. Jordan brings a bounciness to his phrasing that, coupled with Brian's effects, dissipates any remainder of the previous jam's tension. For a moment it sounds like we might get a Salamander Song, but Jordan and Cam take the reins and the jam changes directions to a funky rhythm.
The shift to My Road (My Road) is one of those segues that simultaneously comes out of nowhere, but feels totally obvious. We're treated to an ambient jam of the type MRMR is well-regarded for. The subtlety and intricacy of the evening so far – "hard" music, you might say – is then abandoned in favor of a celebratory headbanging style, what the kids call a rager.
Encore:
This band does a great job with their covers – taking exploratory, artistic liberty with some, and paying dutiful penance with others. Soul to Squeeze is surely in the former camp, as they turn it into a sort of barefoot-dancin'-lake-fishin'-summer tune. There's a casual brashness to this band, and its exemplified by the way they Jordan sings that breakdown at double speed, while playing the hell out of the bass – as if to say, "If the previous 2 hours weren't enough, yeah, we can do that too."
This is truly a special show, full of great moments. The intimacy of the venue, friendly vibe in the crowd, and my personal musical preferences all make it unforgettable as an experience for me. But if you're looking for a highlight, it's in the middle of Bee Jam. If you only have 5 minutes to live, hug your loved ones, then put your headphones on and start the Nugs recording around 14:00.